January 7, 2021
ON THE RECORD. . .
The number of cases and deaths of the China Virus is far exaggerated in the United States because of @CDCgov's ridiculous method of determination compared to other countries, many of whom report, purposely, very inaccurately and low. "When in doubt, call it Covid." Fake News! As the coronavirus death toll climbs and most states are seeing surges in infections, the outgoing Trump lashes out at CDC officials for reporting on the numbers to the public.— Donald Trump, who needs to talk to the thousands who have lost family members or friends to Covid 19.

Peter Navarro: Pence has the authority to give them a ten day window and also says the inauguration date can be rescheduled

Host Jeanine Pirro: "January 20th cannot be changed, that's constitutional."

Navarro: "Well it can be changed, actually. We can go past that date… we can go past that date if we need to." https://twitter.com/Acyn/status/1345561531010846720

"I think it's awful. I am going to support my oath to the Constitution. That's the loyalty test here." — Sen. Lisa Murkowski (R-AK) on Sen. Josh Hawley's (R-MO) intent to challenge the Electoral College vote on January 6.

"We have to remember that the current occupant of the White House is a ringmaster and what he expects to do is snap his whip and all the elephants hop up on chairs. … Maybe it's time for a new party. One that abides by the rule of law… but also faithful to the people of this country, who vote to elect them." — William Cohen, a former GOP senator and Defense secretary under former President Clinton, blasting Republican lawmakers in a CNN interview.

"I could never have imagined seeing these things in the greatest democracy in the world. Has ambition so eclipsed principle?" — Sen. Mitt Romney (R-UT), in a statement blasting the "egregious ploy" of his Republican colleagues to invalidate electoral votes.

"But if bottom line is, the court is saying, 'We're not going to touch this. You have no remedy' — basically, in effect, the ruling would be that you gotta go the streets and be as violent as Antifa and BLM." — Rep. Louie Gohmert (R-TX).

I think a big question for reporters is how you treat the Republican Party and those if its members who have shown they oppose democracy. I mean, would you interview Jefferson Davis about taxes or health care? Does any position they hold matter more than rejecting the election? — Steve Liesman, CNBC's senior economics reporter.

As I've said many times on @CNN we do not have a language in the American political tradition to describe what is happening inside the GOP. More accurate to compare it to the "democratic erosion" in countries like Turkey or Hungary, as discussed here: https://theatlantic.com/ — Ronald Brownstein

"We invited each of the 12 senators involved in plotting this disgraceful effort to come on the show this morning, to try to defend and explain their position. Each of them declined or failed to respond. It all recalls what Ulysses Grant once wrote in 1861: 'There are but two parties now, traitors and patriots.' How would you describe the parties today?" — Jake Tapper

"This is criminal. It's gangster. It's like Donald Corleone. How is this shit not criminal what's going on? I don't understand it. They've got the tapes," — SiriusXM host Howard Stern comparing Donald Trump to The Godfather.

These Senators are engaged in a selfish attempt to shred our Constitution and dismantle our democracy. In doing so, they are also baselessly challenging the same ballots sending them to Congress. It is pathetic, and yet the precedent they are setting is incredibly dangerous. — Alexandria Ocasio-Cortez @AOC

"I don't do rallies for other people. I do them for me."— Trump at a rally supposedly for the two Republican Senate candidates in Georgia.

Nebraska Gov. Ricketts shortsightedly says undocumented workers at meatpacking plants will not be eligible to receive the COVID vaccine — at least 14% of meatpacking workers.

"I don't understand how truth would ever jeopardize the country." -- Georgia Secretary of State Brad Raffensperger (R) when asked by Sandra Smith on Fox News whether he's worried "about the precedent" set by releasing the recording of his call with Donald Trump over the weekend.

"So look, all I want to do is this. I just want to find eleven thousand seven hundred and eighty votes, which is one more than we have. Because we won the state." — Trump phone call on Saturday between Trump and Brad Raffensperger, Georgia's secretary of state. 

"If we nominate Trump, we will get destroyed…….and we will deserve it."— Sen. Lindsey Graham (R-SC), on Twitter, May 3, 2016.

"Mike Pence didn't have the courage to do what should have been done to protect our Country and our Constitution, giving States a chance to certify a corrected set of facts, not the fraudulent or inaccurate ones which they were asked to previously certify. USA demands the truth!" — Trump tweet slamming Pence for not rejecting the electoral vote.

"To those Republicans, many of which may be voting on things in the coming hours: You have an opportunity today. You can be a hero, or you can be a zero. And the choice is yours. But we are all watching. The whole world is watching, folks. Choose wisely. These guys better fight for Trump. Because if they're not, guess what? I'm going to be in your backyard in a couple of months!" — Donald Trump Jr. threatening Republican lawmakers at a large rally outside the White House on Wednesday, pledging that his family would continue to dispute the results of the 2020 election.

This is wrong and not who we are. Be peaceful and use your 1st Amendment rights, but don't start acting like the other side. We have a country to save and this doesn't help anyone. — Donald Trump Jr. after President Donald Trump incited his MAGA supporters to storm and breach the U.S. Capitol, tries to distance himself from the coup attempt – by trying to paint Democrats as violent. 

"This gathering should send a message to them. This isn't their Republican Party anymore. This is Donald Trump's Republican Party." — Donald Trump Jr. retweet.

It is laugh out loud funny to me that people are still pretending @JoeBiden had more support in this country than @realDonaldTrump. This country belongs to patriots & they stand firmly behind Trump. The media, tech Lords, & "pandemic" weren't powerful enough to stop this. — Donald Trump Jr. retweet.

These are the things and events that happen when a sacred landslide election victory is so unceremoniously & viciously stripped away from great patriots who have been badly & unfairly treated for so long. Go home with love & in peace. Remember this day forever! — Trump tweet

"HOUSE RECESSSED (sic.) UNTIL ORDER & SAFETY CAN BE ASSURED. Rumor: ANTIFA fascists in backwards MAGA hats. Time will tell what truth is. Capitol Police Announcement: Capitol breach. Locked down! DO NOT LEAVE CHAMBER!" — Rep. Mo Brooks (R-AL) tweet falsely claiming that Trump supporters who stormed the Capitol building on Wednesday were actually left-wing protesters.

"Let me be very clear: The scenes of chaos at the Capitol do not reflect the true America. This is not who we are. What we are seeing is a small number of extremists dedicated to lawlessness. This is not dissent. It is disorder. It is chaos. It borders on sedition. And it must end. Now." —President-elect Biden in Wednesday's address to the nation.

"Today, the United States Capitol — the world's greatest symbol of self-government — was ransacked while the leader of the free world cowered behind his keyboard — tweeting against his Vice President for fulfilling the duties of his oath to the Constitution. Lies have consequences. This violence was the inevitable and ugly outcome of the President's addiction to constantly stoking division." — Sen. Ben Sasse (R-NE) blaming Trump for the riots and violence at the U.S. Capitol.

"Laura and I are watching the scenes of mayhem unfolding at the seat of our Nation's government in disbelief and dismay. It is a sickening and heartbreaking sight. This is how election results are disputed in a banana republic — not our democratic republic. I am appalled by the reckless behavior of some of our leaders since the election and by the lack of respect shown today for our institutions, our traditions, and our law enforcement." — Former president George W. Bush's statement on Wednesday addressing the Capitol breach that was carried out by pro-Trump rioters.

"What he has done and what he has caused here is something that we've never seen before in our history. It's been 245 years, and no president has ever failed to concede or agree to leave office after the Electoral College has voted, and I think what we are seeing today is the result of that, the result of convincing people that somehow Congress was going to overturn the results of this election, the results of suggesting that he wouldn't leave office. Those are very, very dangerous things, and he will be remembered, this will be part of his legacy, and it is a dangerous moment for the country." — Rep. Liz Cheney (R-WY), the No. 3 House Republican on Wednesday riots in and around the Capitol that delayed Congress's certification of the Electoral College results.

VIDEOS

Sir! Your full call proves how innocent (and strong) you are! -- Comedian J-L Cauvin@JLCauvin
https://twitter.com/JLCauvin/status/1346120484325355520

"You knew damn well I was a snake before you took me in." They knew. Lindsey Graham knew. Marco Rubio knew. Ted Cruz knew.Rand Paul knew. Nikki Haley knew. Kellyanne Conway knew. Mike Pompeo knew. Rick Perry knew. Susan Collins knew. They all knew." https://twitter.com/JORGE_C_NY/status/1345734972288749570
---
IN THIS ISSUE
FYI
OPINION
1. Manufacturers Call on Armed Thugs to Cease Violence at Capitol  as members of Congress meet to count the electoral votes:
Armed violent protestors who support the baseless claim by outgoing president Trump that he somehow won an election that he overwhelmingly lost have stormed the U.S. Capitol today, attacking police officers and first responders, because Trump refused to accept defeat in a free and fair election. Throughout this whole disgusting episode, Trump has been cheered on by members of his own party, adding fuel to the distrust that has enflamed violent anger. This is not law and order. This is chaos. It is mob rule. It is dangerous. This is sedition and should be treated as such. The outgoing president incited violence in an attempt to retain power, and any elected leader defending him is violating their oath to the Constitution and rejecting democracy in favor of anarchy. Anyone indulging conspiracy theories to raise campaign dollars is complicit. Vice President Pence, who was evacuated from the Capitol, should seriously consider working with the Cabinet to invoke the 25th Amendment to preserve democracy. — National Association of Manufacturers President and CEO Jay Timmons released the following statement in response to large groups of armed Trump adherents who have violently stormed the U.S. Capitol building https://www.nam.org/manufacturers-call-on-armed-thugs-to-cease-violence-at-capitol-11628/
2. Vice President Mike Pence approved the order to deploy the D.C. National Guard
Defense and administration officials said it was Vice President Mike Pence, not President Trump, who approved the order to deploy the D.C. National Guard. It was unclear why the president, who incited his supporters to storm the Capitol and who is still the commander in chief, did not give the order. One administration official suggested that the president did not want to be seen calling out the National Guard against his own supporters. https://www.nytimes.com/2021/01/06/us/politics/national-guard-capitol-army.html
3. Trump not allowed into Scotland to escape Biden inauguration, Sturgeon warns
Nicola Sturgeon, the first minister of Scotland, said President Trump will not be allowed to visit the country to play golf during Joe Biden's inauguration, as reports indicated he was planning, the Independent reports.
Given the global pandemic, Sturgeon stressed it is currently illegal to travel in or out of the country without a valid reason: "Coming to play golf is not what I would consider to be an essential purpose." https://www.independent.co.uk/news/uk/home-news/trump-biden-inauguration-scotland-sturgeon-lockdown-b1782602.html
4. Trump 'diehards' threatening to 'kill all the D.C. traitors' on day of the president's rally: report
Buried deep in a report claiming Donald Trump has no intention of walking away meekly after Congress certifies the 2020 presidential election on January 6th, the Daily Beast reports that "diehard' fans of the president are openly threatening violence the day they descend upon Washington D.C. for a "Stop the Steal" rally the president is promoting.
The report notes that noted Trump supporter Proud Boy Joe Biggs, boasted on Parler, "Watch out, January 6 — you ain't gonna know who the f*ck it is standing beside you."
The Beast also reports that Trump fans are discussing dressing up as Antifa protesters so the anti-fascist group will be blamed for any violence. https://www.rawstory.com/trump-inciting-violence-2649717814/
5. Trump Attorney Lin Wood claims Pence will be executed for treason
On Friday, pro-Trump lawyer Lin Wood — already raising eyebrows for suggesting Chief Justice John Roberts was involved in Antonin Scalia's death and that deceased pedophile billionaire Jeffrey Epstein is still alive — took things a step further, tweeting that outgoing Vice President Mike Pence will be executed for treason and Secretary of State Mike Pompeo will "save" the election. https://www.rawstory.com/lin-wood-2649714701/
6. Vaccination is going slowly because nobody is in charge
How did we get from 100 million promised doses to just a few million people vaccinated? It is a lesson in misunderstanding American federalism and a failure of national leadership. The federal government and Operation Warp Speed saw their role as getting vaccines to the states, without considering what supports states would need to get vaccines to the people. The Trump administration is now blaming the slow rollout on states. This is political theater and obviously untrue. States undoubtedly have a critical role to play in vaccine distribution. But states alone can't mount one of the largest vaccination efforts in recent history. Moreover, not all 50 states are failing.
There is hope now. President-elect Joe Biden is pledging action, recognizing and preparing to meet the huge operational challenge of vaccinating a nation with the urgency demanded by these times. After a slow ramp up, states will improve their processes. For all this pandemic has taught us and cost us, it has demonstrated again that we are the United States and, especially in crisis, an effective federal government is essential. https://www.washingtonpost.com/outlook/2020/12/31/vaccination-slow-trump-administration-states/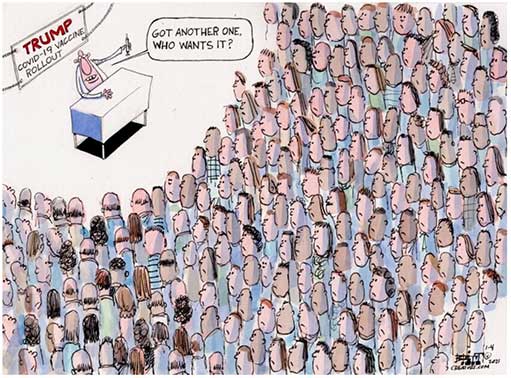 7. Trump, the GOP arsonist
Trump is torching his own party and its leaders on his way out of power — and tossing gas on the fire with a public call for mass protest next week and a vote to overturn his defeat.
Trump is demanding Republicans fully and unequivocally embrace him — or face his wrath. This is self-inflicted, self-focused — and dangerous for a Republican Party clinging to waning Washington power. https://www.axios.com/trump-republicans-georgia-runoffs-tweets-7997c1d8-9f1b-47ae-8353-94864426eaea.html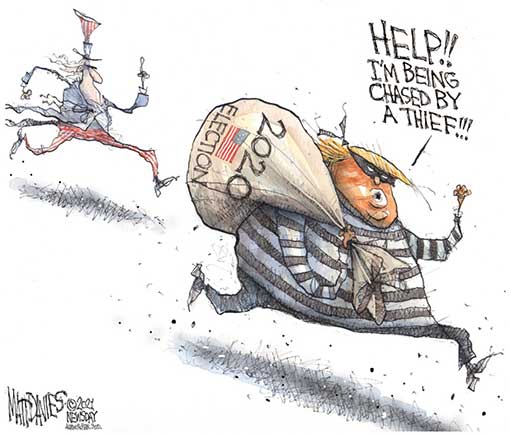 8. Dominion plans to sue Sidney Powell, doesn't rule out Trump
Dominion, which makes the voting machines used in Georgia and elsewhere, has been the subject of baseless accusations of malfeasance during last November's elections.
Trump, during his leaked call with Georgia Secretary of State Brad Raffensperger, called the U.S.-based company "corrupt" and had to be corrected by Raffensperger after claiming machines had been recently removed and/or altered by Dominion employees.
Dominion says that the rhetorical barrage has led to death threats against its employees, including one who remains unable to return to his home. https://www.axios.com/dominion-defamation-lawsuit-sidney-powell-trump-5e8530bc-a6ff-4feb-badd-d617eccdabfa.html
9. How Trump Tried, but Largely Failed, to Derail America's Top Climate Report
The National Climate Assessment, America's premier contribution to climate knowledge, stands out for many reasons: Hundreds of scientists across the federal government and academia join forces to compile the best insights available on climate change. The results, released just twice a decade or so, shape years of government decisions.
Now, as the clock runs down on President Trump's time in office, the climate assessment has gained a new distinction: It is one of the few major U.S. climate initiatives that his administration tried, yet largely failed, to undermine. https://www.nytimes.com/2021/01/01/climate/trump-national-climate-assessment.html
10. Trump Finally Gave QAnon What It Always Wanted: Respect
The weeks following Donald Trump's reelection loss have separated the president's true believers from the mere political opportunists. Attorney General Bill Barr defied Trump by stating there was no evidence of widespread voter fraud. Senate Majority Leader Mitch McConnell acknowledged Trump's defeat and congratulated President-elect Joe Biden. All of Trump's Supreme Court justices agreed not to hear a case brought by Texas seeking to overturn the election results. In response, Trump has turned to the segment of his base whose commitment to him is far greater than their commitment to empirical reality, the Republican Party, or even self-preservation: the QAnon community.
QAnon started in 2017 as a small community of imageboard users who delusionally believed they were receiving messages from the Trump White House and the military through an anonymous entity known as "Q," promising the imminent arrest of Hillary Clinton and many other powerful people for child sex trafficking. Clinton obviously remains free, but QAnon followers tend to overlook the lack of results and failed predictions because they gauge the movement's success by its popularity, its opposition from the mainstream media, and its recognition by the president himself. Consequently, many in the QAnon community feel supremely validated despite the fact that Trump is exiting the White House.
Trump's encouragement of QAnon is nothing new. The president first amplified a QAnon-promoting Twitter account in November 2017 and has done so hundreds of times since then. One of these retweets includes a post by Ron Watkins, the longtime administrator of imageboard 8chan/8kun and the probable author of at least some of the posts credited to Q. https://nymag.com/intelligencer/amp/2020/12/trump-gave-qanon-what-it-always-wanted-respect.html
11. Biden inaugural activities to include memorial service for covid victims
President-elect Joe Biden's scaled-back inaugural activities will include a nationwide memorial service ahead of his swearing-in to honor the lives lost to the coronavirus, the committee planning the events announced Thursday.
The Presidential Inaugural Committee said it would host a lighting ceremony at the Lincoln Memorial Reflecting Pool late in the afternoon on Jan. 19, a day ahead of Biden's swearing-in at the Capitol. The committee said it is also inviting cities and towns around the country to light buildings and ring church bells at the same time. https://www.washingtonpost.com/politics/biden-inauguration-covid-memorial/2020/12/31/d3d61d0e-4b60-11eb-a9d9-1e3ec4a928b9_story.html
12. Gov. Sununu says New Hampshire inauguration ceremony canceled because of concerns over armed protesters
New Hampshire Gov. Chris Sununu (R) announced that his outdoor inauguration ceremony scheduled for next week is being canceled because of concerns over armed protesters.
"My first responsibility is ensuring the safety of my family and our citizens," Gov. Chris Sununu said. "For weeks, armed protesters have increasingly become more aggressive, targeting my family, protesting outside my private residence and trespassing on my property — an outdoor public ceremony simply brings too much risk. We do not make this decision lightly, but it is the right thing to do." https://www.wmur.com/article/chris-sununu-2021-inauguration-canceled/35097969#
13. Trump hotel looks to cash in on Biden inauguration
A check of the Trump International Hotel D.C.'s website indicates that the hotel demands a two-night minimum stay during the inauguration and has hiked its rates to $2,225 per night for Jan. 19 and 20, while a similar room runs in the $400 range during most of the rest of January. https://www.politico.com/news/2020/12/31/trump-hotel-biden-inauguration-453168
14. Trump predicts the coronavirus will simply "go away"- many, many times.
March 10: "Just stay calm. It will go away."
March 12: "It's going to go away."
March 30: "It will go away. You know it — you know it is going away, and it will go away, and we're going to have a great victory."
March 31: "It's going to go away, hopefully at the end of the month. And, if not, hopefully it will be soon after that."
April 3: "It is going to go away… It's going — I didn't say a date. … I said 'it's going away,' and it is going away."
April 7: "It did go — it will go away."
May 15: "It'll go away — at some point, it'll go away."
June 15: "At some point, this stuff goes away. And it's going away."
July 19: "I will be right eventually. You know, I said, 'It's going to disappear.' I'll say it again."
Aug. 5: "This thing's going away. It will go away like things go away."
Aug. 31: "It's going to go away."
Sept. 15: "It is going away. And it's probably going to go away now a lot faster because of the vaccines."
Oct. 10: "It's going to disappear; it is disappearing."
Oct. 24: "It is going away; it's rounding the turn."
Meanwhile we've marked more than 100,000 new cases every single day since Nov. 4, the number of fatalities from Covid has reached record highs, the 10 deadliest days since the start of the pandemic all happened this December, and the caseload is likely to increase in the coming weeks due to travel during the holidays. https://www.politico.com/news/magazine/2020/12/29/worst-predictions-about-2020-451444
15. Trump Appointee Seeks Lasting Control Over Radio Free Europe, Radio Free Asia
Michael Pack's stormy tenure over the federal agency that oversees government-funded broadcasters abroad — including Voice of America — appears to be coming to a close. Yet President Trump's appointee has sparked an internal outcry by taking bold steps to try to cement his control over at least two of the networks and shape the course of their journalism well into the Biden administration.
Pack, the CEO of the U.S. Agency for Global Media, also serves as chairman of the boards of Radio Free Europe/Radio Liberty and Radio Free Asia. Pack and the members of the boards have now added binding contractual agreements intended to ensure that they cannot be removed for the next two years. They could be removed only "for cause" subsequently. Pack stocked those boards with conservative activists and Trump administration officials, despite a tradition of bipartisanship. https://www.npr.org/2020/12/30/951126591/trump-appointee-seeks-lasting-control-over-radio-free-europe-radio-free-asia
16. Post-Brexit Britain arrives
The U.K. Office for Budget Responsibility estimates that Brexit will leave the country about 4% poorer than it would have been as part of the EU.
That's just the economic cost. The cultural costs associated with the end of free movement of labor between Britain and the continent are less quantifiable, but arguably larger.
Both Europe and the U.K. may also be less secure, now that British police no longer have access to the Schengen Information System. Last year, they queried Europe's largest security database more than 1.6 million times per day.
Scotland wants to secede and become an independent European nation. Northern Ireland might vote to leave the U.K. and join Ireland, reuniting the island.
For the past 40 years, Britain found peace and prosperity as one of the most important players in a community of more than 400 million people. As of today, it has become, once again, an island off the coast of Europe. https://www.axios.com/post-brexit-britain-arrives-d34d29b3-262d-4269-bf3f-381e3f55c3c8.html
17. The DAILY GRILL
"Vice President Pence shares the concerns of millions of Americans about voter fraud and irregularities in the last election...The Vice President welcomes the efforts of members of the House and Senate to use the authority they have under the law to raise objections and bring forward evidence before the Congress and the American people on January 6th.. — Pense's Chief of Staff Marc Short

VERSUS

Pathetic. Weak. Spineless. Shameless. Shameful. Disgraceful. Deplorable. Unprincipled. Mendacious. Reprehensible. Despicable. — George Conway

 

The Founders entrusted our elections chiefly to the states—not Congress. They entrusted the election of our president to the people, acting through the Electoral College—not Congress. And they entrusted the adjudication of election disputes to the courts—not Congress. Under the Constitution and federal law, Congress's power is limited to counting electoral votes submitted by the states. — Sen. Tom Cotton (R-ARK), an ally of Donald Trump, saying he will not oppose the counting of certified electoral votes during a joint session of Congress to confirm Joe Biden's election.

VERSUS

How can you certify an election when the numbers being certified are verifiably WRONG. You will see the real numbers tonight during my speech, but especially on JANUARY 6th. @SenTomCotton Republicans have pluses & minuses, but one thing is sure, THEY NEVER FORGET! — Donald J. Trump

 

I have the honor of being sworn in today as a Member of Congress for my fourth term.
My oath to support and defend the Constitution has never been more important.
First order of business?
Fight for fair elections by objecting to fraud on Jan 6!
Liberty must be defended! — Rep. Jody Hice @CongressmanHice

VERSUS

Hice was re-elected to represent Georgia's 10th congressional district on the same day, on the same ballot, using the same voting technology and methods as @JoeBiden. He seems to have no questions about whether his own election was fair and free of fraud. — Jake Tapper @jaketapper
18. From MEDIA MATTERS (They watch Fox News so you don't have to)
Trump supporters climbed the walls of the Capitol, as the House abruptly went to recess due to the security breach. But Fox's "news" anchors agreed things were peaceful. https://www.mediamatters.org/bret-baier/foxs-bret-baier-trump-supporters-attacking-us-capitol-its-not-its-siege-it-seems-they

Sean Hannity defends mob storming the US Capitol: Hannity: "This is something that has been building for a very long time." https://www.mediamatters.org/sean-hannity/sean-hannity-defends-mob-storming-us-capitol

As rioters stormed the Capitol, a Fox News correspondent called the demonstrations "peaceful." https://www.mediamatters.org/griff-jenkins/protesters-storm-capitol-fox-news-correspondent-calls-demonstrations-peaceful
1. Aaron Blake: 'Let's have trial by combat': How Trump and allies egged on the violent scenes Wednesday
After President Trump began raising objections to his 2020 election loss nearly two months ago, his allies repeatedly assured it was harmless. "If He Loses, Trump Will Concede Gracefully," was the title of an op-ed from former White House chief of staff Mick Mulvaney. An anonymous senior administration official later assured The Washington Post there was little "downside for humoring him for this little bit of time."
"No one seriously thinks the results will change," the official said. "He went golfing this weekend. It's not like he's plotting how to prevent Joe Biden from taking power on Jan. 20. He's tweeting about filing some lawsuits, those lawsuits will fail, then he'll tweet some more about how the election was stolen, and then he'll leave."
Those assurances were ridiculed at the time, and that ridicule was entirely vindicated Wednesday. As Congress began to accept the results of the electoral college, Trump supporters stormed the capitol, forcing both chambers to shut down as they were considering the first challenge to the results, from Arizona. Rioters clashed with police and forced their way into buildings and even the floor of Congress. There was broken glass. There was an armed standoff at the door of the House Chamber.
To be clear, this was something Trump and his allies flirted with repeatedly in the day and weeks before it happened — and indeed, not more than a couple hours prior. And the president also expressed approval for what he had seen shortly after the scenes subsided.
At a rally near the capitol earlier Wednesday, Trump's personal lawyer Rudolph W. Giuliani endorsed the idea of a "trial by combat" — an allusion to something being settled by physical violence rather than evidence. He cited supposed evidence of his baseless voter fraud claims but then turned to a method of justice that had no place for such things.
"If we're wrong, we will be made fools of," Giuliani said, despite courts having almost universally found his claims to be wrong. "But if we're right, a lot of them will go to jail. So let's have trial by combat."
Trump appeared soon after Giuliani, encouraging his supporters to head to the Capitol building. Trump told the supporters he wanted them "to peacefully and patriotically make your voices heard," but he has often offered mixed messages on this kind of thing. He has occasionally and suggestively said that supporters might respond with force if they believe the election result is fraudulent, and he has repeatedly alluded that his supporters might wind up being as allegedly violent as his opponents. https://www.washingtonpost.com/politics/2021/01/06/lets-have-trial-by-combat-how-trump-allies-egged-violent-scenes-wednesday/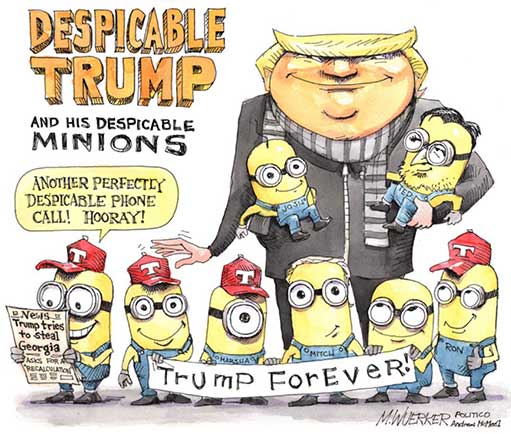 2. Eric Levitz: Impeach and Remove Trump Now
Impeaching and removing Donald Trump from office in the next 24 hours will not redeem the Republican Party which has brought America to the edge of ungovernability. But it is the least they can do in the present moment to unearn every lucid patriot's contempt.
Trump cannot be allowed the opportunity to pardon his insurrectionaries. He cannot be allowed to carry on using the presidency's bully pulpit to propagate the incendiary lies that ease his narcissistic injuries at our democracy's expense. He cannot be allowed to dissolve today's horror in the acid bath of America's inveterate amnesia and emerge three years from now as a leading contender for a major-party presidential nomination. He must be evicted from our White House immediately. He must be frog-marched out of our civic life in disgrace.
Republicans have gotten far more than they deserve out of their Faustian bargain with a protofascist. The Supreme Court is theirs for a generation. The billions of dollars in tax cuts are in their patrons' bank accounts. We on the left like to tell ourselves that history will judge them harshly. But it's hard to say with confidence that "justice" is where the moral arc of the universe is bending toward these days. So congratulations, McConnell & Co. You played your hand well. Now spare us all another two weeks of democratic backsliding before the U.S. ceases to be a figurative failed state and becomes the literal variety.
And when the Republican leadership declines to do this — when they decline to pay the United States that small courtesy after all that they have taken from it — the incoming Democratic government must recognize their opposition for what it is and fortify our democracy before the GOP gets another opportunity to destroy it. https://nymag.com/intelligencer/2021/01/trump-supporters-capitol-hill-insurrection-impeachment.html
3. Jonathan Chait: Every Trump Loyalist Is Complicit in the President's Incitement of Sedition
Violence is what he has been promising all along, wafting the scent of blood into the air to goad his supporters. Trump believes that he and his supporters are entitled to threaten and attack journalists and any other people who resist them. When Republican member of Congress Greg Gianforte body-slammed the reporter Ben Jacobs for asking about his stance on Trump's health care plan,Trump praised him for his toughness.
Later that year, when another reporter asked the president about his atmosphere of threats, Trump growled that violence was a deserved response to critical news coverage. "You know what, you're creating violence by your question. You are creating. You," Trump warned. "The fake news is creating violence … I'll tell you what, if the media would write correctly and write accurately and write fairly, you'd have a lot less violence in the country."
He has been lamenting the supposed passivity of his supporters and fantasizing openly about the day when their pent-up urges could be unleashed. "I actually think that the people on the right are tougher, but they don't play it tougher, okay" he said in 2019, "I can tell you I have the support of the police, the support of the military, the support of the Bikers for Trump – I have the tough people, but they don't play it tough — until they go to a certain point, and then it would be very bad, very bad." When armed protesters stormed the Michigan State Capitol and shut down its proceedings, Trump praised their conviction. The state was a laboratory of autocracy, a testing ground for a method Trump was ready to bring to Washington.
Thought precedes action. Trump has never accepted the legitimacy of political and legal restraints on his power. He has failed to overturn the election because he is inept — not because he actually accepts the public's right to elect his opponent. Accordingly, he delegitimized the election and persuaded his supporters that it was stolen.
The president is an insurrectionist. Those who cooperated in giving him power cannot say they weren't warned. https://nymag.com/intelligencer/2021/01/trump-mob-incitement-capitol-riot-washington-storm-congress.html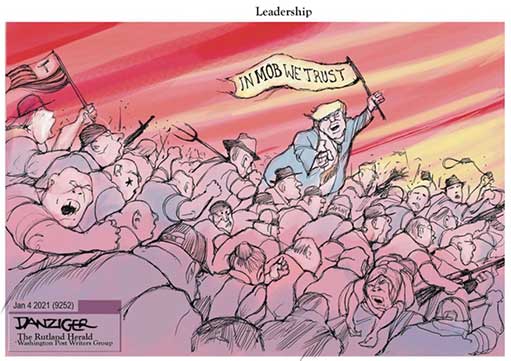 4. Sarah Jones: This Is What Trumpism Without Trump Looks Like
On Wednesday afternoon, as a mob sacked the U.S. Capitol, Donald Trump's successor pleaded for peace. America was a good place, so much better than what we were seeing today, President-elect Joe insisted.
We've triumphed before, and we'll triumph again. But the platitudes fall flat. So do the shocked tweets and the cable punditry. Trump could stop this with a tweet, people said; this is not who we are. But Trump cannot stop this, because this is who we are. This is who we've always been. The sacking of the Capitol is the latest entry in a bloody old ledger.
Trump is not a sophisticated thinker, but he understands a basic truth about America. If you understand the Civil War as a slaveholder's insurrection, the events of January 6 feel inevitable. This country birthed the Ku Klux Klan and lynched thousands. This country murdered Martin Luther King Jr. This country beat civil-rights protesters and killed trade unionists and Communists and so, eventually, it elected Trump. And the violence was revived. Under Trump, this country killed Jews at worship in 2018, and it targeted Latinos in an El Paso Walmart the very next year. This country gave rise to neo-Nazis in the streets of Charlottesville, Virginia, and to the murder of Heather Heyer.
Though America has also always been more complex than the ugliest version of itself — it is Heyer's country, and King's country, as much as it's Trump's — there's nothing original about the violence his presidency inspires. When we wonder about the future of what we call Trumpism, a loose term for the racist nationalism that defines his presidency, conventional wisdom generally holds that there is no Trumpism without Trump. Without his celebrity, the coalition that coalesced around him would not survive for long. There's still some truth to that view. But that doesn't mean the threat Trump poses will pass. The mob that invaded the Capitol carried Trump flags, true, but it carried Confederate flags too. That's what Trumpism without Trump looks like: old-fashioned white supremacy, outfitted with a new set of grievances. https://nymag.com/intelligencer/2021/01/this-is-what-trumpism-without-trump-looks-like.html
5. Bess Levin: Ivanka, Eric, And Don Jr. Are In Furious Damage Control Mode Following Capitol Hill Siege
As violent supporters of Donald Trump stormed Capitol Hill on Wednesday, in an attempt to overthrow the results of the 2020 election, first daughter Ivanka Trump had a message for them: Remember, we claim to be the "law and order" party, so it wouldn't look good to hurt the police— but at the end of the day, Princess MAGA loves ya.
"American Patriots," she wrote, referring to domestic terrorists, "any security breach or disrespect to our law enforcement is unacceptable. The violence must stop immediately. Please be peaceful." Later, apparently having realized that describing violent fascists as "patriots" might not be great for the ole brand, Ivanka deleted her tweet and tried to claim she abhors the behavior on display today, in an absurd attempt to distance herself from the monsters unleashed by her family. https://www.vanityfair.com/news/2021/01/trump-children-capitol-hill-damage-control
6. Brent Orrell: The Trump Supernova: Lies, Damned Lies, and the End of the GOP
This is the Trump supernova. Like political parties, so-called "degenerate" stars tend to die in a rather spectacular fashion. With some kinds of stars, when the last of the nuclear fuel is consumed, a sudden expansion streams out massive quantities of solar mass and electromagnetic radiation, and often leaves behind a black hole—an object with a gravitational pull so strong that even light cannot escape it. It's best not to be in the neighborhood when it happens.
Some GOP operatives and pro-Trump commentators are trying to blast their way out of this gravity field, pretending they haven't been there cheering on a modern Know-Nothing populist movement that has destabilized American politics for the past five years. The Trump presidency is dying, but the explosive energy of Trumpism is about to consume what remains of the institutional GOP.
There's another thing about supernovae: When a large star explodes, it rapidly builds up new elements, flinging them out into the universe, enabling the formation of new nebulae, asteroids, planets—and even new stars. Whether the conservatism being ejected from the GOP can build new institutions in time to protect American democracy from both populism and one-party rule remains very much in question. https://thebulwark.com/the-trump-supernova-lies-damned-lies-and-the-end-of-the-gop/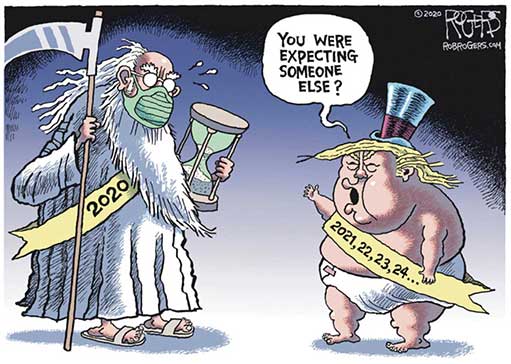 7. John Harris: Can Trump still be Trump come Jan. 21? 
The president's demagoguery with his baseless assertions of a stolen election, and his increasingly erratic behavior since the election, has put an old puzzle in a frightening new light: Does seemingly irrational behavior actually serve a rational purpose? I'm already on record with my hunch — not a prediction! — that Trump will fade faster than most people and probably even he assumes once he no longer occupies the White House. But this is the dominant question hovering over Republican politics. https://www.politico.com/newsletters/playbook/2021/01/01/ive-got-a-feeling-21-is-gonna-be-a-good-year-491260
8. William Kristol: The Republican party and the conservative movement must now choose: Trump or America
We are in the midst of a genuine constitutional crisis.
Not since 1876—a crisis that followed from a recent civil war, and whose resolution legitimized a disastrous retreat from American principles in at least a part of the reunited nation—have we seen a moment like this. The president of the United States, aided and abetted by major figures in his party, is trying, after the votes have been certified, to overturn the results of the recent election. Major figures in the Republican party seek to hijack legal and legislative forms, and to call people into the streets, against a core element of our constitutional form of government. Just an hour or so ago, we learned of a new presidential phone call that is unequivocally grounds for impeachment.
It is false reassurance to be comforted that these efforts will fail. Because who is to say that these efforts are not a harbinger of things to come? They certainly look more like the future of our politics than a last gasp of a fading past. And what they seem to suggest is that one can have no great confidence that one of our two major political parties will remain a constitutional and republican party. https://thebulwark.com/its-time-to-speak-for-america/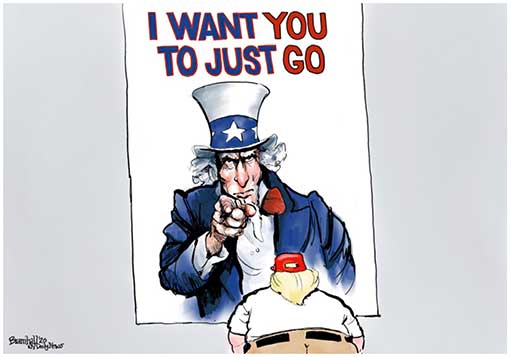 9. Brian Karem: Crimes, Crises, and Coup
The biggest stain left on the fabric of our nation after Donald Trump's departure will be the stain of acceptance.
Many people on the left and in the middle, along with a few on the right, have fought against his desecration of political and social norms and stood up to his bullying.
But what is striking is how many more Americans have just accepted all of it—the insanity, the narcissism, the lies, and the bullying of the last few years. Millions have adapted to the Trump madness, accepting it as the new normal.
Many even welcomed it, embraced it.
That is true even now, when Trump has lost his re-election bid—and instead of a working president striving to lead the country through the ongoing crisis of the pandemic, we have a whimpering crybaby camped out at Mar-a-Lago who spends his days golfing, tweeting and plotting a coup.
He has not led the effort to vaccinate Americans. "Operation Warp Speed" has become "Operation Turtle Crawl," as the distribution of vaccines has been appallingly slow and disorganized. Trump has done nothing to use the enormous power of his office to bring speed and order to the process. In fact, he has specifically denied responsibility, fecklessly tweeting that "it is up to the states to administer" the vaccines. As usual, he refuses to accept any responsibility—though he always wants the accolades. https://thebulwark.com/crimes-crises-and-coup/
10. Ronald Brownstein: Republicans Are Going Down a Dangerous Road
Republicans' tolerance, if not active support, for President Donald Trump's ongoing bid to overturn the 2020 election has crystallized a stark question: Does the GOP still qualify as a small-d democratic party—or is it morphing into something very different?
Even with the Supreme Court still deciding whether to consider a last-ditch legal effort to invalidate the results from the key swing states, there appears little chance that Trump will succeed in subverting Joe Biden's victory. But Trump's failure on that front has obscured his success at enlisting a growing swath of his party to join his cause—a dynamic that is already prompting new Republican efforts to make it more difficult to vote and raising concerns about the party's commitment to the basic tenets of Western democratic rules and conventions, including the peaceful transfer of power.
"Where their hearts are is hard to know, but their behavior is not small-d democratic," Susan Stokes, a political-science professor and the director of the Chicago Center on Democracy at the University of Chicago, told me.
Stokes, like other experts, says the Republican Party is on a continuum toward the kind of "democratic erosion" visible in other countries, including Turkey under Recep Erdoğan, Hungary under Viktor Orbán, or, in the most extreme example, Russia under Vladimir Putin. In those nations, a party that wins office through a democratic election then seeks to use state power to tilt or completely undermine future elections.
"With one of our political parties trying to overturn the results of a free and fair election, we are way farther down that road now than we were before the election, or a year ago," she told me. Republicans "have been going down that road all through Trump's term, but this is the parting gift, which is more extreme than what has happened before." https://www.theatlantic.com/politics/archive/2020/12/gops-anti-democratic-bid-overturn-election/617358/
11. Steve Schmidt: 'Shame on Them All'
The Rubicon will be crossed on the 6th. The ruthless and amoral cynicism of Ted Cruz and Marco Rubio and James Lankford and Josh will be on appalling display. It must be opposed fiercely. It must be recognized for what it is.
Another storm is gathering in the constant struggle between liberty and her enemies. Trump has unleashed the fury and has found his following. It will be a long fight. At the hour of his defeat and defenestration, Trump has done his greatest damage.
This is a movement that is fueled by lies, conspiracies, corruption, greed, extremism, racism, grievance, resentment, cynicism and a profound absence of love for America. It is right to feel anger and contempt toward its leaders and enablers.
There is only one proposition that America's pro-democracy coalition can offer to these people. "We win-you lose." It's that simple.
Sedition is the precise word, and the right word, to describe what we have been witnessing. Never before have so many American leaders betrayed their country. We will watch their eternal disgrace on live TV. The evidence of their ignominy will exist forever, as will the memory of their monumental betrayal. https://www.maxnewstoday.com/post/steve-schmidt-shame-on-them-all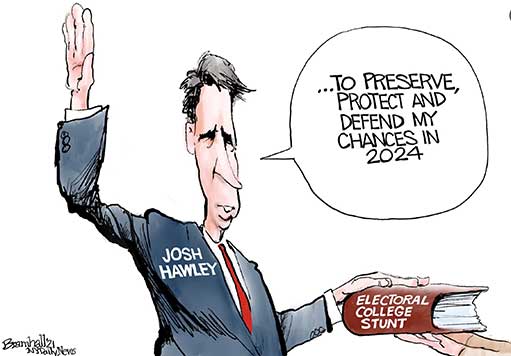 12.  John Cassidy: Trump's Authoritarian Moment Is Here
After four years of watching experienced Republican politicians prostrating themselves before Trump, it is easy to become inured to the sight, pitiful as it is. But rejecting the duly certified results of a Presidential election goes far beyond everyday bowing and scraping. "The egregious ploy to reject electors may enhance the political ambition of some, but dangerously threatens our Democratic Republic," Mitt Romney, a Republican who himself flirted with working for Trump before turning against him, noted in a statement, on Sunday. "The congressional power to reject electors is reserved for the most extreme and unusual circumstances. These are far from it. . . . I could never have imagined seeing these things in the greatest democracy in the world. Has ambition so eclipsed principle?"
The question answers itself, and the consequences of the enabling attitude shown by many Republicans are far-reaching. In the short term, it makes it more likely that Trump will escalate his antidemocratic campaign and perhaps even try to involve the military—a possibility that all ten living former Defense Secretaries warned against in an op-ed piece published on Sunday. But, even if Trump is safely ushered out of office on January 20th, the consequences of his behavior over the past few weeks will be long-lasting, particularly for the Republican Party.
Surely, the main motivation of some of the Republicans who have aligned themselves with Trump—Pence, Ted Cruz, Josh Hawley—is to bolster their own Presidential hopes in the post-Trump era. However, in giving credence to the President's baseless claims that he is being cheated out of office, these prominent Republicans are just making it even more likely that, at least as far as the G.O.P. is concerned, there won't be a post-Trump future but, instead, another lengthy period in which he and his grievance continue to dominate all else.
This is the fate of a Party that has embraced a populist personality cult—Trumpism—which has recently outed itself as what Steve Schmidt, the campaign strategist who advised John McCain in 2008, called over the weekend "an American autocratic movement with Fascistic markers." Using plainer English, Stuart Stevens, another Never Trump Republican strategist, who advised Mitt Romney in 2012, summed things up on Twitter: "The bottom line is that the @GOP has become a threat to democracy. I spent decades helping elect members of the party and it's painful to admit. But it's a clear and present danger and should be treated as such." This is primarily Trump's work, but it's not just Trump's work. Not by a long shot. https://www.newyorker.com/news/our-columnists/trumps-authoritarian-moment-is-here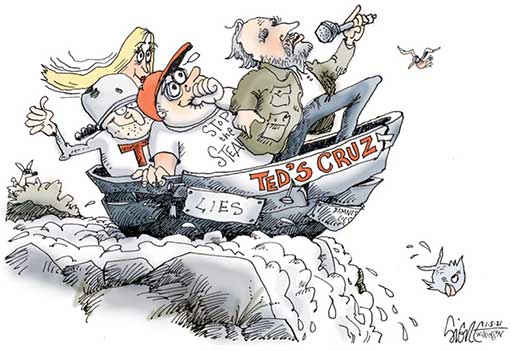 13. Paul Krugman: How the Republican Party Went Feral
People have compared the modern G.O.P. to organized crime or a cult, but to me, Republicans look more like the lost boys in "Lord of the Flies." They don't get news from the outside world, because they get their information from partisan sources that simply don't report inconvenient facts. They don't face adult supervision, because in a polarized political environment there are few competitive races.
So they're increasingly inward-looking, engaged in ever more outlandish efforts to demonstrate their loyalty to the tribe. Their partisanship isn't about issues, although the party remains committed to cutting taxes on the rich and punishing the poor; it's about asserting the dominance of the in-group and punishing outsiders.
The big question is how long America as we know it can survive in the face of this malevolent tribalism.
The current attempt to undo the presidential election won't succeed, but it has gone on far longer and attracted much more support than almost anyone predicted. And unless something happens to break the grip of anti-democratic, anti-truth forces on the G.O.P., one day they will succeed in killing the American experiment. https://www.nytimes.com/2021/01/04/opinion/trump-republican-party.html
14. Jonah Goldberg: How Trump's moral corruption infects others in his party
Rot extends far outside of Washington. How could it not, for the politicians are merely responding to market incentives, the way weather vanes respond to the wind (even if they helped manufacture the very gales they are responding too)? The consumers — i.e. the voters, viewers, donors and subscribers — want the lies.
A whole industry has grown up around the idea that what is good for Trump — or simply what Trump thinks is good for him — is the premise and conclusion of every argument. From pastors and "constitutional scholars" to journalists and conservative activists, all the conservative yardsticks — of good character, decency, statesmanship, constitutionalism — have been shaved down and bent to fit the crooked timber of the man.
These are the people Trump surrounds himself with. Some were already corrupt, which is why they fluttered, moth-like to his flame in the first place. But others were not always this way. The American right is now littered with Actonian cautionary tales, people trading their reputations for one last bit of relevance.
No wonder Trump's consternation with the uncorrupted Georgia officials who would not ratify his lies. He pleaded for investigators who "want to find" the evidence he needs, because for Trump and his apologists the truth is defined by his wants and needs.
He won't stop whining until he gets what he wants, which means he'll be whining for the rest of his life, and some will call it leadership. https://www.latimes.com/opinion/story/2021-01-04/donald-trump-republicans-corruption-josh-hawley-ted-cruz
15. LA Times' Editorial: Devin Nunes doesn't even belong in the vicinity of the Presidential Medal of Freedom
It's more than a little ironic that President Trump has decided to award the Presidential Medal of Freedom to, of all people, a California congressman who has spent the last few years attacking some of the United States' most fundamental freedoms — namely, freedom of speech and freedom of the press.
But, then again, nothing should surprise us in these last few days of the Trump administration, when the outgoing one-term president has used awards, pardons and other presidential prerogatives to reward his allies and score political points. https://www.latimes.com/opinion/story/2021-01-05/devin-nunes-presidential-medal