October 8, 2020
ON THE RECORD. . .
"The thing about the debate is people got to see why no one that has any integrity can work for Trump. This is what Trump is like in the Oval Office every day. It's why [John] Kelly left. It's why [Jim] Mattis quitTrump doesn't let anyone else speak. He really doesn't care what you have to say. He demeans people. He talks over them. And everyone around him thinks it's getting worse." — Prominent Republican quoted by Gabriel Sherman.

 

President Trump is "aiding and abetting" Russian President Vladimir Putin's efforts to sow doubt about the American electoral system. — Former national security adviser H.R. McMaster.

"The Supreme Court's 1973 Roe v. Wade decision legalized abortion for any reason. It's time to put an end to the barbaric legacy of Roe v. Wade and restore laws that protect the lives of unborn children." — Supreme Court nominee Amy Coney Barrett signed a letter in 2006 that came in the form of an advertisement from the antiabortion group, St. Joseph County Right to Life.

"If we want to be governed by someone we wouldn't do a business deal with because their background is so shady ― if we're willing to do that ― then that's in conflict with who I think we are. And so I think it's necessary at those times to take a stand." — Retired Army Gen. Stanley McChrystal endorsing Joe Biden.

"I think it's important… the president be visible… that he'd be on the phone, that he'd be on television, that he gets out on the Truman balcony, if he can. I'm not too concerned about the health, I'm just concerned about the perception." — White House chief of staff Mick Mulvaney on Fox.

"At the best of times, Trumpworld operates with all the strategic direction of a chicken with its head cut off, Right now, they're operating like a chicken with its head cut off, lit on fire, and thrown off a cliff." — A senior Republican official told Olivia Nuzzi.

When President Reagan was shot and nearly killed by a would-be assassin, the country rallied around him. But he also hadn't spent eight months downplaying the threat of deranged gunmen. — Del Quentin Wilber in the LA Times.

"It's a hoax. There's no pandemic. As Trump said, how many millions die of flu? If he's sick, then they planted it when they tested him. It's what they did to me when I went to hospital for my heart beating too fast. Two weeks later I got a cold. It's political. I don't trust the US government at all. Who are they to mandate personal safety? I listen to Trump." — Sean Patterson a 56-year-old truck driver outside the early voting station in St Joseph, Missouri.

"That Presidential SUV is not only bulletproof, but hermetically sealed against chemical attack. The risk of COVID19 transmission inside is as high as it gets outside of medical procedures. The irresponsibility is astounding. My thoughts are with the Secret Service forced to play. Every single person in the vehicle during that completely unnecessary Presidential "drive-by" just now has to be quarantined for 14 days. They might get sick. They may die. For political theater. Commanded by Trump to put their lives at risk for theater. This is insanity." — Dr. James Phillips, a Walter Reed attending physician, about Trump leaving the Medical Center in the back of a suburban so he could wave at supporters.

"Sick and in isolation, Mr. President, you have become a symbol of your own failures. Failures of recklessness, ignorance, arrogance. The same failures you have been inflicting on the rest of us ... Get well and get it together." — CNN's Jake Tapper

"We will not see diseases like the coronavirus come here… isn't that refreshing when contrasting it with the awful presidency of President Obama?" — Kayleigh McEnany, 2/25/20

"He has experience now fighting the coronavirus ... those first-hand experiences, Joe Biden doesn't have those" -- Trump campaign spokesperson Erin M Perrine attacks Joe Biden for not getting coronavirus.

If @realDonaldTrump were my patient, in unstable condition + contagious illness, & he suddenly left the hospital to go for a car ride that endangers himself & others: I'd call security to restrain him then perform a psychiatric evaluation to examine his decision-making capacity. —Leana Wen, M.D. tweet.

"It's insane that he would return to the White House and jeopardize his staff's health when we are still learning of new cases among senior staff. This place is a cesspool." — A White House staffer

A humbling Herman Cain/coronavirus timeline:
6/24: Attends Trump rally, maskless
7/2: Tests positive for Covid-19
7/10: Says he's improving
7/15: Says his doctors seem happy
7/27: Says he's really getting better
7/30: Dies
— Tim O'Brien

My thoughts on the mental health effects of dexamethasone: This med may be necessary for sick #covid19 patients, but it is not benign. Steroid induced psychosis and mania are real, and common. — Megan Ranney MD MPH

"If the polls were exactly as wrong as they were over the final three weeks in 2016, Biden would still win with over 300 electoral votes." — Nate Cohn

"I think he misspoke. I think he should correct it. If he doesn't correct it, I guess he didn't misspeak." — Sen. Tim Scott (R-SC), on Trump's call out to the Proud Boys to "stand back and stand by" at last night's debate.

"I don't think it's safe, not for him and anybody else, anywhere or anyone he interacts with." — Miami Mayor Francis Suarez (R) saying that Donald Trump shouldn't come to his city for the October 15 debate with Joe Biden if Trump is still testing positive with Covid-19.

"We have it in our hands, the ultimate power. The power to vote. It is the noblest instrument ever devised to register our will in a peaceable and productive fashion… No matter how many obstacles are thrown in our way. Because once America votes, America will be heard." — Joe Biden, in a speech at Gettysburg.

"He literally saved Christianity." — Eric Trump, speaking on a North Dakota radio about his dad's accomplishments.
The Collapse | The Lincoln Project: https://youtu.be/b5aM6W2HR_E

I'm Smart | The Lincoln Project: https://youtu.be/KMtfAySJWJo

Decency | The Lincoln Project: https://youtu.be/LpWKRFRizqg

A Zoo Story | The Lincoln Project: https://youtu.be/_3buSUZ7SCI

Donald Trump lost the debate | The Lincoln Project: https://twitter.com/ProjectLincoln/status/1311660395241844736

Fact-Checking the First 2020 Presidential Debate | Now This:
https://youtu.be/tplMC4cqNbg

#LyingLindsey | MeidasTouch: https://twitter.com/MeidasTouch/status/1309494377744445441

President Trump's First Term By The Numbers | Now This: https://youtu.be/NX-DdOUlcqs

New Start | Joe Biden For President 2020: https://youtu.be/foiRlQg87CE

Our Moment | The Lincoln Project: https://youtu.be/9mzcW0zUSKg

Don't let it dominate your lives. | The Lincoln Project: https://twitter.com/ProjectLincoln/status/1313305671438229504

Former CIA Director Gen. Michael Hayden: "If there is another term for Trump, I don't know what happens to America." | Republican Voters Against Trump: https://twitter.com/RVAT2020/status/1313649181475704832

------------------------------------------

First Debate Cold Open - SNL: https://youtu.be/Wsije1KetVw
---
IN THIS ISSUE
FYI
OPINION
1. Andy Borowitz: Pence Grateful That Plexiglass Shield at Debate Will Protect Him from Woman
Mike Pence said that he was "extremely grateful" that the organizers of Wednesday night's Vice-Presidential debate would be providing a plexiglass shield to protect him from a woman.

Speaking to reporters, Pence said that the Commission on Presidential Debates had taken "appropriate measures" to shield him from exposure to a female during the Salt Lake City face-off.

"I've read all the relevant literature, and from what I've learned a plexiglass shield provides adequate protection from a woman," he said. "Knowing that this barrier exists between me and a member of the opposite sex, I feel comfortable about moving forward with the debate."

The Vice-President added that, if he makes it through Wednesday's debate without being exposed to a woman, he may start bringing a portable plexiglass shield with him on the campaign trail.

"Despite all of my precautions, in my travels across this great land of ours I have unfortunately encountered women," Pence said. "Plexiglass might be the answer." https://www.newyorker.com/humor/borowitz-report/
2. Trade Deficit Hits 14-Year High
US trade deficit rises 5.9% to $67.1 billion in August, highest since August 2006. https://twitter.com/ZekeJMiller/status/1313459698067275778
3. All the President's Lies About the Coronavirus
President Donald Trump has repeatedly lied about the coronavirus pandemic and the country's preparation for this once-in-a-generation crisis.
A collection of the biggest lies he's told as the nation endures a public-health and economic calamity is at: https://www.theatlantic.com/politics/archive/2020/10/trumps-lies-about-coronavirus/608647/
4. Trump faces credibility crisis over health scare
One month from Election Day, Donald Trump is facing a credibility crisis as yawning as his health crisis, at a moment when he needs the public's trust the most.
It's a moment months in the making, the collision of Trump's repeated defiance of his own administration's guidelines for staying safe during the pandemic and his well-known disregard for facts. The result: deep uncertainty for Americans over whom and what to believe about the health of the nation's leader at a perilous moment in U.S. history. https://www.usnews.com/news/politics/articles/2020-10-04/analysis-trump-faces-credibility-crisis-over-health-scare
5. Delayed Homeland Security Report Warns of 'Lethal' White Supremacy
The Department of Homeland Security warned on Tuesday that violent white supremacy was the "most persistent and lethal threat in the homeland" in an annual assessment that a former intelligence chief had accused the agency of withholding in deference to President Trump.
The threat assessment highlighted white supremacists as the most deadly among domestic terrorists in recent years and Russia as the primary threat to spreading disinformation.
"This threat assessment confirms two things: that white supremacist extremists are the top domestic threat to the homeland, and they are often inspired by President Trump's rhetoric," said Representative Bennie Thompson, Democrat of Mississippi and the chairman of the House Homeland Security Committee. https://www.nytimes.com/2020/10/06/us/politics/homeland-security-white-supremacists-russia.html
6. "Don Jr. Thinks Trump Is Acting Crazy": The President's COVID Joyride Has the Family Divided
Donald Trump's erratic and reckless behavior in the last 24 hours has opened a rift in the Trump family over how to rein in the out-of-control president, according to two Republicans briefed on the family conversations. Sources said Donald Trump Jr. is deeply upset by his father's decision to drive around Walter Reed National Military Medical Center last night with members of the Secret Service while he was infected with COVID-19. "Don Jr. thinks Trump is acting crazy," one of the sources told me. The stunt outraged medical experts, including an attending physician at Walter Reed. 
According to sources, Don Jr. has told friends that he tried lobbying Ivanka Trump, Eric Trump, and Jared Kushner to convince the president that he needs to stop acting unstable. "Don Jr. has said he wants to stage an intervention, but Jared and Ivanka keep telling Trump how great he's doing," a source said. Don Jr. is said to be reluctant to confront his father alone. "Don said, 'I'm not going to be the only one to tell him he's acting crazy,'" the source added. 
One area where the family seems united is over the president's manic tweeting early Monday morning. After Trump sent out more than a dozen all-caps tweets, the Trump children told people they want Trump to stop. "They're all worried. They've tried to get him to stop tweeting," a source close to the family told me.  
https://www.vanityfair.com/news/2020/10/don-jr-thinks-trump-is-acting-crazy-presidents-covid-joyride-has-family-divided
7. Trump's touting of 'racehorse theory' tied to eugenics and Nazis alarms Jewish leaders
President Trump has alarmed Jewish leaders and others with remarks that appeared to endorse "racehorse theory" — the idea that selective breeding can improve a country's performance, which American eugenicists and German Nazis used in the last century to buttress their goals of racial purity.
"You have good genes, you know that, right?" Trump told a mostly white crowd of supporters in Bemidji, Minn., on Sept. 18. "You have good genes. A lot of it is about the genes, isn't it? Don't you believe? The racehorse theory. You think we're so different? You have good genes in Minnesota."
Rabbi Mark Diamond, a senior lecturer on Jewish studies at Loyola Marymount University, was stunned.
"This is at the heart of Nazi ideology… This has brought so much tragedy and destruction to the Jewish people and to others. It's actually hard to believe in 2020 we have to revisit these very dangerous theories." https://www.latimes.com/politics/story/2020-10-05/trump-debate-white-supremacy-racehorse-theory
8. We're paying a lot of attention to Trump's case, but the US just recorded the most daily COVID-19 infections in nearly 2 months
News of President Donald Trump and members of his inner circle testing positive for COVID-19 has sent shock waves across the country, but it's not just the White House dealing with an onslaught of cases: Friday's nationwide case count was the highest daily total in nearly two months, while the weekly average of cases reported has seen an increase.
There were more than 54,000 positive cases of the coronavirus reported on Friday, the highest single-day case count since Aug. 14, when the country recorded just over 64,000 cases, per Johns Hopkins University data. https://www.usatoday.com/story/news/nation/2020/10/03/united-states-reports-highest-covid-cases-august/3610298001/
9. Seventeen Republicans Refuse to Condemn QAnon in House Vote
A bipartisan resolution formally condemning QAnon passed with overwhelming support in the House on Friday, though 17 Republicans voted against the measure, unwilling to reject the deranged conspiracy movement that President Trump has helped amplify and that will almost certainly find a voice in Congress come November.
The 371-18 vote (with one Republican voting "present") comes days after Democratic Representative Tom Malinowski, the lead sponsor of the resolution, was targeted with death threats by QAnon followers after a TV spot released by House Republicans' official campaign committee falsely claimed that the Congressman, who is running for reelection, "lobbied to protect sexual predators." Given that QAnon revolves around a secret "deep state" plot against Trump by a group of Satanic, child-molesting elites, adherents of the conspiracy movement were naturally galvanized by the debunked ad. https://nymag.com/intelligencer/2020/10/17-republicans-refuse-to-condemn-qanon-in-house-vote.html
10. Pence ordered borders closed after CDC experts refused
Vice President Mike Pence in March directed the nation's top disease control agency to use its emergency powers to effectively seal the U.S. borders, overruling the agency's scientists who said there was no evidence the action would slow the coronavirus, according to two former health officials. The action has so far caused nearly 150,000 children and adults to be expelled from the country.
The top Centers for Disease Control and Prevention doctor who oversees these types of orders had refused to comply with a Trump administration directive saying there was no valid public health reason to issue it, according to three people with direct knowledge of the doctor's refusal. https://apnews.com/article/virus-outbreak-pandemics-public-health-new-york-health-4ef0c6c5263815a26f8aa17f6ea490ae
11. Conservative hoaxers face charges over false voter robocalls
Two notorious conservative operatives were charged Thursday with felonies in connection with false robocalls that aimed to dissuade residents in Detroit and other U.S. cities from voting by mail, Michigan's attorney general announced.
Jacob Wohl, 22, and Jack Burkman, 54, each face four felony counts in Detroit, including conspiring to intimidate voters in violation of election law and using a computer to commit crimes, Attorney General Dana Nessel said.
The calls falsely warned residents in majority-Black Detroit and urban areas in at least four other states that voting by mail in the Nov. 3 election could subject people to arrest, debt collection and forced vaccination, Nessel said. https://apnews.com/article/election-2020-technology-arrests-michigan-voting-rights-e0d49155dc8f347b1347cf779fd43812
12. 'Totally Under Control': Alex Gibney Uncovers Trump's Coronavirus Failings in New Documentary
Alex Gibney's latest documentary takes aim at the Trump administration's inability to deal with a pandemic that has killed 200,000 Americans.
NEON will release Totally Under Control on Apple TV+, iTunes, Amazon, Fandango Now, Google Play, YouTube, Vudu, and other digital services on Oct. 13, followed by a Hulu streaming debut on Oct. 20. Watch the trailer at https://www.youtube.com/watch?v=F7ktU4WRfzM
13. God-tier genetics': A stunned MAGA world offers blame, adulation after Trump's diagnosis
Donald Trump's coronavirus diagnosis has stunned MAGA world, but it hasn't changed how it reacts to bad news: blame others, accuse the left of craven behavior and cling tighter to the president.
As updates around Trump's health fluctuated throughout the day — before the medical staff decided to move Trump to Walter Reed hospital Friday night — Trump's hardcore base seemed unable to deviate from its traditional impulses.
The president's backers furiously descended upon commentators who pointed out Trump's comorbidities, such as his borderline obesity and age, which raise the risk of serious infection. Conservatives accused journalists and liberals of celebrating or even questioning Trump's diagnosis, compiling lists of who they claimed were the most prominent offenders. On Capitol Hill, Sen. Kelly Loeffler (R-Ga.) tweeted that China "gave this virus" to the president and first lady, and demanded: "WE MUST HOLD THEM ACCOUNTABLE."
Out on the MAGA world fringes, people were divided. Some swiftly predicted rosy outcomes — the president was already healthy, he could take hydroxychloroquine, a much-hyped drug Trump has touted as a Covid-19 treatment with no conclusive evidence. Others concocted theories that the Democrats were, somehow, trying to steal the election once again.
After his post-midnight tweet announcing he had the virus, Trump went silent until nearly 7 p.m., leaving his fervent online fan base without guidance on his preferred narrative.
Yet the base's response mirrors the way Trump has instructed his followers to react to any pandemic-related news: downplay, craft optimistic storylines and accuse the Democrats and media of obfuscation and vitriol. It's how the president has reacted to nearly every unwelcome pandemic-related development in recent months, whether it was early concerns over personal protective equipment and hospital space, or a death toll that recently surpassed 200,000. https://www.politico.com/news/2020/10/02/maga-world-blame-adulation-trump-covid-425624
14. Cavalier White House approach to COVID catches up to Trump
Masks were rarely spotted in the West Wing. Crowds of people gathered shoulder to shoulder on the White House South Lawn. And Air Force One streaked across the sky from one massive campaign rally to another.
With ready access to testing and the best public health minds at his disposal, President Donald Trump should have been the American safest from COVID-19. Instead, he flouted his own government's guidelines and helped create a false sense of invulnerability in the White House, an approach that has now failed him as it did a nation where more than 200,000 people have died. https://apnews.com/article/election-2020-virus-outbreak-donald-trump-public-health-health-1e12c6e356b950d4521517452b54de80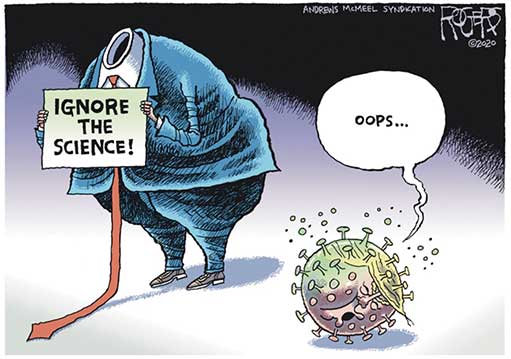 15. Leaked Recording of Melania Trump: 'Who Gives a F**k About Christmas Stuff?'
On Thursday night, CNN's Anderson Cooper broadcast a leaked phone recording of First Lady Melania Trump in which she vented to her former friend Stephanie Winston Wolkoff in July 2018 about the White House Christmas display and her infamous trip to the border during that summer's migrant-family separation crisis. In the recording, Trump says she doesn't care for having to put together the holiday displays: "Who gives a fuck about Christmas stuff?" https://nymag.com/intelligencer/2020/10/melania-trump-who-gives-a-f-k-about-christmas-stuff.html
16. Trump requires food aid boxes to include a letter from him
The Agriculture Department last week began mandating that millions of boxes of surplus food for needy families include a letter from President Donald Trump claiming credit for the program.
The USDA's $4 billion Farmers to Families Food Box Program has distributed more than 100 million boxes to those in need since May, with the aim of redirecting meat, dairy and produce that might normally go to restaurants and other food-service businesses. But organizations handing out the aid complain the program is now being used to bolster Trump's image a month before a high-stakes election — and some even have refused to distribute them.
"In my 30 years of doing this work, I've never seen something this egregious," said Lisa Hamler-Fugitt, executive director of the Ohio Association of Food Banks. "These are federally purchased boxes."
The letter comes in both English and Spanish on White House letterhead and features Trump's bold signature: "As President, safeguarding the health and well-being of our citizens is one of my highest priorities," it reads. "As part of our response to coronavirus, I prioritized sending nutritious food from our farmers to families in need throughout America." https://www.politico.com/news/2020/10/01/trump-letter-food-aid-boxes-424230
17. LeBron James recruits 10,000 poll volunteers to assist in Black districts
NBA star LeBron James has reportedly recruited 10,000 volunteers to help at polls in Black electoral districts in November.
The Los Angeles Lakers forward announced last month that his voting rights organization More Than A Vote would work on drafting volunteers in southern battleground states.
The effort has amassed 10,000 volunteers for "We Got Next," a collaboration with the NAACP Legal Defense Fund, The New York Times reported Wednesday. https://thehill.com/blogs/in-the-know/in-the-know/519018-lebron-james-recruits-10000-volunteers-to-help-at-polls-in
18. Abbott orders Texas counties to close multiple ballot drop-off sites
As an election security measure, Abbott said, counties will be limited to one drop-off site where poll watchers — designated by political parties and candidates — must be allowed to observe ballot deliveries by voters.
Courts all over the country ... have held that it is too late to change election rules, but our failed Republican leadership will try anyway," Texas Democratic Party Gilberto Hinojosa said in a statement. "Gov. Abbott and Texas Republicans are scared. We are creating a movement that will beat them at the ballot box on Nov. 3, and there's nothing these cheaters can do about it."
Abbott's order came the same day that Travis County opened four drop-off locations — Harris County opened 12 locations Monday — as election officials worked to meet unprecedented demand for mail-in voting during the pandemic. In addition to being a convenience, the multiple drop-off sites were intended to alleviate concerns about the efficiency of the U.S. Postal Service. https://www.statesman.com/news/20201001/abbott-orders-counties-to-close-multiple-ballot-drop-off-sites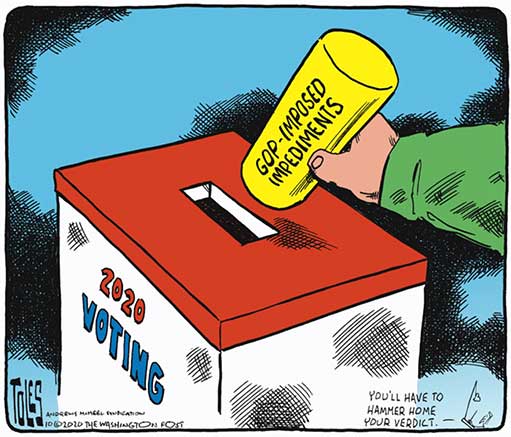 19. The Transition Integrity Project (TIP): Preventing a Disrupted Election and Transition
In June 2020 the Transition Integrity Project (TIP) convened a bipartisan group of over 100 current and former senior government and campaign leaders and other experts in a series of 2020 election crisis scenario planning exercises. The results of all four table-top exercises were alarming. We assess with a high degree of likelihood that November's elections will be marked by a chaotic legal and political landscape. We also assess that the President Trump is likely to contest the result by both legal and extra-legal means, in an attempt to hold onto power. Recent events, including the President's own unwillingness to commit to abiding by the results of the election, the Attorney General's embrace of the President's groundless electoral fraud claims, and the unprecedented deployment of federal agents to put down leftwing protests, underscore the extreme lengths to which President Trump may be willing to go in order to stay in office.
In this report, TIP explains the basis for their assessment. Their findings are bolstered by the historical experience of Bush v. Gore (2000) and other U.S. electoral dysfunctions. The closest analogy may be the election of 1876, a time of extreme partisanship and rampant disenfranchisement, where multiple states proffered competing slates of electors, and the election was only resolved through a grand political bargain days before Inauguration—one that traded an end to Reconstruction for electoral peace and resulted in a century of Jim Crow, leaving deep wounds that are far from healed today.
Read the report at https://paxsims.files.wordpress.com/2020/08/preventing-a-disrupted-presidential-election-and-transition-8-3-20.pdf
20. South Carolina GOP asks Supreme Court to reinstate mail-in ballot witness requirement
South Carolina Republicans asked the Supreme Court on Thursday to reinstate the witness signature requirement for mail ballots ahead of the November election, extending the legal turmoil over the rule even as tens of thousands of ballots have been sent to voters across the state.
The request to the high court comes after the U.S. Court of Appeals for the 4th Circuit on Wednesday left in place an order blocking the requirement because of the risks associated with in-person voting during the coronavirus pandemic. https://www.washingtonpost.com/politics/south-carolina-ballot-supreme-court/2020/10/01/874dd598-040d-11eb-b7ed-141dd88560ea_story.html
21. Judge rules federal law enforcement commission violates law, orders work stopped as attorney general prepares to issue report
A national commission on policing launched earlier this year by President Trump and Attorney General William P. Barr has violated federal law by seating only people in law enforcement and failing to include members with different perspectives such as civil rights activists, defense attorneys or mental health professionals, a federal judge ruled Thursday as he halted the group's work. The commission also did not file a charter, post public notice of its meetings or open them to the public, so even though it has already sent its draft report and recommendations to Barr for release later this month, the judge prohibited Barr from publishing a final report. https://www.washingtonpost.com/crime-law/2020/10/01/judge-rules-federal-law-enforcement-commission-violates-law-orders-work-stopped-attorney-general-prepares-issue-report/
22. Trump's ex-national security adviser says president is 'aiding and abetting' Putin
Former national security adviser H.R. McMaster said Thursday that President Donald Trump is "aiding and abetting" Russian President Vladimir Putin's efforts to sow doubt about the American electoral system. https://www.politico.com/news/2020/10/01/former-national-security-adviser-trump-putin-424458
23. Internal document shows Trump officials were told to make comments sympathetic to Kyle Rittenhouse
Federal law enforcement officials were directed to make public comments sympathetic to Kyle Rittenhouse, the teenager charged with fatally shooting two protesters in Kenosha, Wisconsin, according to internal Department of Homeland Security talking points obtained by NBC News.
In preparing Homeland Security officials for questions about Rittenhouse from the media, the document suggests that they note that he "took his rifle to the scene of the rioting to help defend small business owners."
Another set of talking points distributed to Homeland Security officials said the media were incorrectly labeling the group Patriot Prayer as racists after clashes erupted between the group and protesters in Portland, Oregon. https://www.nbcnews.com/politics/national-security/internal-document-shows-trump-officials-were-told-make-comments-sympathetic-n1241581
24. America's nightmare foretold
President Trump made it clear at the debate that he'll continue to call the election results fraudulent — and contest the outcome in key states — no matter how wide the margin. That'll be amplified by a massive amount of disinformation, even though the platforms are trying to curtail it.
Back in 2000, we didn't know Bush v. Gore was going to happen. We know this is going to happen.
Trump is telegraphing with clarity that even if he gets blown out, he'll claim the election was rigged and votes were stolen. https://www.axios.com/americas-nightmare-foretold-77ae91f6-d17b-4d32-9d5f-3712ad85d141.html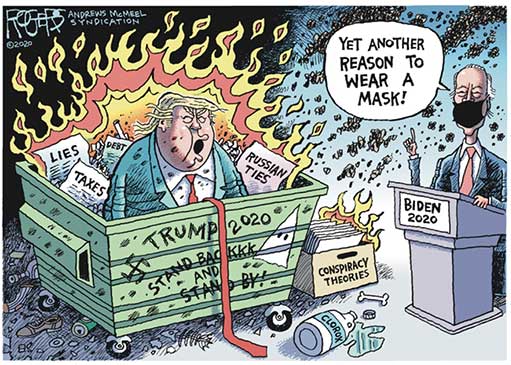 25. Study Finds 'Single Largest Driver' of Coronavirus Misinformation: Donald Trump
Of the flood of misinformation, conspiracy theories and falsehoods seeding the internet on the coronavirus, one common thread stands out: President Trump.
That is the conclusion of researchers at Cornell University who analyzed 38 million articles about the pandemic in English-language media around the world. Mentions of Mr. Trump made up nearly 38 percent of the overall "misinformation conversation," making the president the largest driver of the "infodemic" — falsehoods involving the pandemic. https://www.nytimes.com/2020/09/30/us/politics/trump-coronavirus-misinformation.html
26. Wisconsin GOP Deeply Worried About Racing Sausages At Polling Places
The Wisconsin GOP is very concerned that giant racing might get people excited about voting in this election - so, the party is seeking to ban them from early voting locations. https://www.huffpost.com/entry/wisconsin-gop-racing-sausages_n_5f76411cc5b66377b27f6590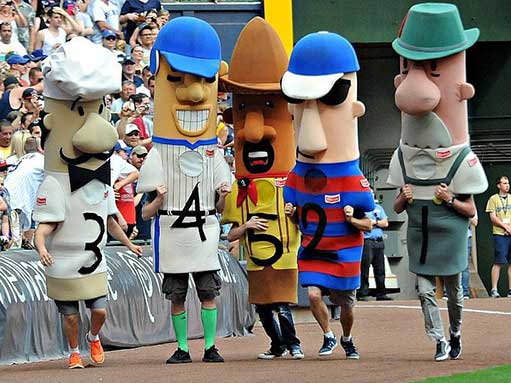 27. Amy Coney Barrett Signed Letter Urging End of 'Barbaric' Roe v. Wade
Supreme Court nominee Amy Coney Barrett signed a letter in 2006 that included a call for the end of Roe v. Wade, denouncing the seminal court decision that provided a legal right to abortion as "barbaric."
The letter came in the form of an advertisement from the antiabortion group St. Joseph County Right to Life, which was based in South Bend, Indiana.
"The Supreme Court's 1973 Roe v. Wade decision legalized abortion for any reason," the ad read. "It's time to put an end to the barbaric legacy of Roe v. Wade and restore laws that protect the lives of unborn children. https://www.thedailybeast.com/amy-coney-barrett-signed-letter-urging-end-of-barbaric-roe-v-wade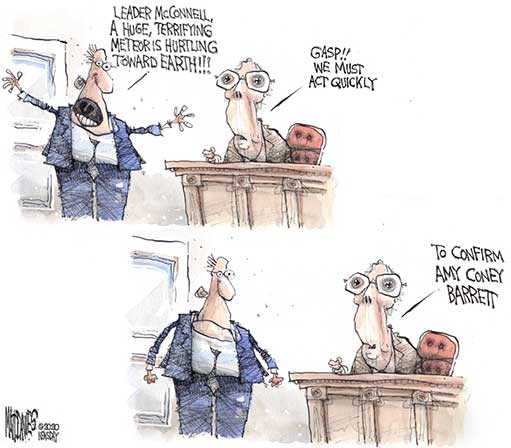 28. Religious group scrubs all references to Amy Coney Barrett from its website
A tiny religious organization tied to Amy Coney Barrett, Donald Trump's supreme court nominee, sought to erase all mentions and photos of her from its website before she meets with lawmakers and faces questions at her Senate confirmation hearings.
Barrett, a federal appeals judge, has declined to publicly discuss her decades-long affiliation with People of Praise, a Christian group that opposes abortion and holds that men are divinely ordained as the "head" of the family and faith.
Former members have said the group's leaders teach that wives must submit to the will of their husbands. https://www.theguardian.com/us-news/2020/sep/30/people-of-praise-amy-coney-barrett-website
29. The DAILY GRILL
"They said, 'Oh, what about the children that they were separated?' Give me a fucking break. Where they were saying anything when Obama did that?" — Melania Trump, on a tape secretly recorded in 2018 and released Thursday night by CNN, the first lady complains to then-friend Stephanie Winston Wolkoff that the media is bothering her about the Trump administration's policy of separating migrant children from their parents at the US border."

VERSUS

"The Obama administration did not, in fact, pursue a policy of separating children from their parents at the border. And Trump's statements on the tape suggest that, far from secretly disapproving of her husband's administration, she is actually on board with its aims and angry at those who criticize them. She's also mad about the 'liberal media,' who she believes are treating her unfairly." — Vox

 

"He has experience now fighting the coronavirus as an individual... Joe Biden doesn't have that." — Trump campaign spokesperson @ErinMPerrine, trying to make Joe Biden's lack of infectious disease a strike against him.

VERSUS

This is like picking your airplane pilot because he has experience crashing. — Dan Pfeiffer

It's like picking someone to run the economy because he has experience bankrupting his businesses. — Steven D. Schroeder

 

"Flu season is coming up! Many people every year, sometimes over 100,000, and despite the Vaccine, die from the Flu. Are we going to close down our Country? No, we have learned to live with it, just like we are learning to live with Covid, in most populations far less lethal!!!" — Trump on Twitter

VERSUS

This Tweet violated the Twitter Rules about spreading misleading and potentially harmful information related to COVID-19. However, Twitter has determined that it may be in the public's interest for the Tweet to remain accessible. — Twitter

 

Democrats would "shut our economy and jobs down" if they win in November. — Trump once again warning voters.

VERSUS

Polls 'suggest a blue wave in which Democrats gain unified control of Washington is becoming more likely' — and they're not suggesting investors dump stocks. In fact, all else equal, such a blue wave would likely prompt us to upgrade our forecasts." — Goldman economists
30. From MEDIA MATTERS (They watch Fox News so you don't have to)
Trump's refusal to condemn white supremacy during the debate was met with widespread condemnation. Despite Trump's own Department of Homeland Security stating that white supremacist groups constitute the largest domestic terrorist threat in this nation, Trump and right-wing media constantly pivot to fear mongering about anti-fascist activists, or "antifa," and other left-wing protesters. During the debate, Democratic nominee Joe Biden echoed FBI Director Christopher Wray in stating that anti-fascism is an ideology and not a group. https://www.mediamatters.org/donald-trump/after-trumps-proud-boys-debate-remarks-right-wing-media-replay-charlottesville

Tucker Carlson calls concern about white supremacist inspired violence "crazier than any conspiracy." https://www.mediamatters.org/tucker-carlson/tucker-carlson-calls-concern-about-white-supremacist-inspired-violence-crazier-any

ALEX JONES (HOST): America is in a war for its very survival and now our president battling against the Communist Chinese, the globalists, and others in open worldwide economic war is being told he's got to stay locked up for 14 days legitimizing this entire giant fraud. What we know is 90% of the tests are false positive, conservatively. What we know is there are people inside the White House that want to lock the president down. There have been all these coup plans by people in the White House. You had Mattis trying to organize a coup. And I said all along one way to do it with this COVID-19 is to give him a false positive test. They could then poison his Diet Coke or something, he gets really sick and they said it's COVID-19. So I would also advise the Secret Service to be extra diligent about what the president ingests because they could now use COVID as the cover to kill the president. https://www.mediamatters.org/coronavirus-covid-19/alex-jones-white-house-staffer-may-have-poisoned-trumps-diet-coke-and-then

Fox News' pro-Trump hosts have spent months trying to bolster President Donald Trump's reelection chances by downplaying the threat posed by the novel coronavirus that causes COVID-19. They mocked former Vice President Joe Biden for the precautions his presidential campaign has taken to protect him and others and valorized Trump for defying the public health community by refusing to do so. Now, the president himself has the virus.  https://www.mediamatters.org/fox-news/fox-news-systematically-attacked-coronavirus-public-health-recommendations-now-its-most
1. NY Times Editorial: Elect Joe Biden, America
When they go to the polls this year, voters aren't just choosing a leader. They're deciding what America will be. They're deciding whether they favor the rule of law, how the government will help them weather the greatest economic calamity in generations, whether they want government to enable everyone to have access to health care, whether they consider global warming a serious threat, whether they believe that racism should be treated as a public policy problem.
Mr. Biden isn't a perfect candidate and he wouldn't be a perfect president. But politics is not about perfection. It is about the art of the possible and about encouraging America to embrace its better angels. https://www.nytimes.com/2020/10/06/opinion/joe-biden-2020-nytimes-endorsement.html
2. Jonathan Chait: Trump Turning Down Pelosi's Stimulus Deal Is the Worst Political Blunder in History
In May, the House of Representatives passed a $3 trillion economic relief bill. Over the next four and a half months, Republicans in the White House and Senate dithered, alternating between good-faith engagement and lethargy. The apparent final blow came in the form of a series of tweets by President Trump announcing an end to negotiations.
It is possible Trump — who just yesterday declared his desire to cut a deal — intends this as one of his "clever" negotiating ploys, enabling him to turn around and make a deal that he can paint as a capitulation by his panicked foes. But even if that happens, the window to boost the economy in time to help him (obviously the only consideration Trump cares about) is closing fast. Walking away from the extended hand of an opposition party willing to pump trillions of dollars into the economy may go down as the single greatest political blunder in the history of presidential elections. https://nymag.com/intelligencer/2020/10/trump-stimulus-deal-coronavirus-worst-mistake-president.html
3. Greg Sargent: Trump reveals why his corrupt 'October surprise' scheme will likely fail
When President Trump released videos showcasing his return to the White House on Monday evening as a glorious personal triumph, he showed us exactly how he hopes to salvage his reelection hopes — but also revealed why his planned "October surprise" will likely fail.
Trump portrayed his return as a moment of extraordinary personal valor. One video displayed his arrival by helicopter as akin to that of a conquering hero. The other showed him addressing (prematurely, perhaps) his vanquishing of the virus, declaring: "Don't be afraid of it."
But, crucially, Trump also insisted that we will "beat it" because "we have the best medicines," and "the vaccines are coming momentarily."
Trump's endgame is to offset months of towering failures on the coronavirus by showcasing his personal defeat of it as proof that he was right to push the country back to normalcy — while also announcing a vaccine, or at least dangling one as imminent.
But Trump has already blown it on this strategy. He failed to treat this as an occasion to admit error, to show humility, to demonstrate basic humanity toward the more than 200,000 Americans who have been killed by the virus and the many millions who have been negatively impacted.
Instead, Trump reverted to narcissistic form by hyping his own alleged triumph over the virus as having grand, overarching significance.
This helps all but ensure that majorities will see any vaccine announcement as being all about him — as naked subversion of the national interest and more corrupt manipulation of the levers of government toward his own political ends. https://www.washingtonpost.com/opinions/2020/10/06/trump-reveals-why-his-corrupt-october-surprise-scheme-will-likely-fail/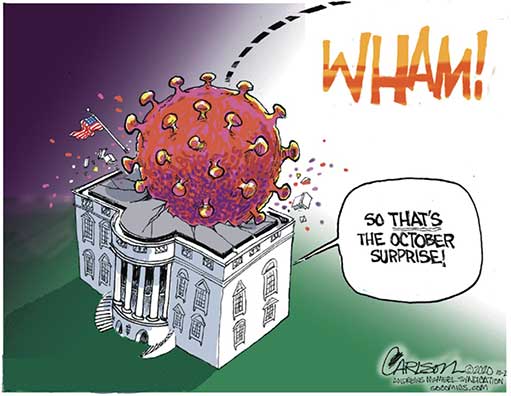 4. Dana Milbank: Americans showed Trump compassion. He repaid us with contempt.
Americans of all political stripes wished President Trump well in his battle with covid-19. Now he is repaying our compassion with reckless disregard and callous contempt for the well-being of anybody but himself.
Trump, announcing via Twitter on Monday afternoon that he was ending his hospitalization at Walter Reed National Military Medical Center after three days, told Americans that the pandemic is no big deal. "Don't be afraid of Covid. Don't let it dominate your life," he wrote. "I feel better than I did 20 years ago!" he added.
A more selfish man has never occupied his high office. He received a cutting-edge treatment, monoclonal antibodies, unavailable to virtually all other Americans. He received an antiviral, remdesivir, that is rationed for ordinary Americans. He required oxygen and steroids.
Yet Trump has the audacity to tell Americans the virus is no biggie. No doubt the families of the 209,000 dead are greatly reassured. https://www.washingtonpost.com/opinions/2020/10/05/americans-showed-trump-compassion-he-repaid-us-with-contempt/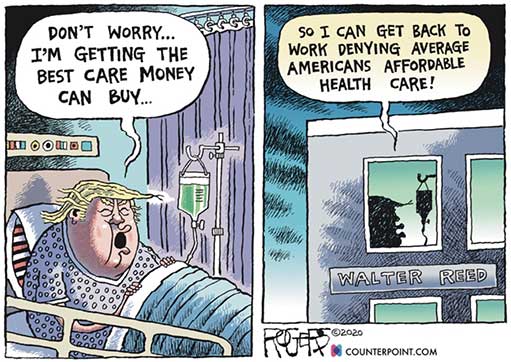 5. Andrew Sullivan: Reality Ends The Reality Show
Like all tyrants, Trump lives in an alternate universe where his will, tempered only by his whim, determines everything. And like all tyrants, Trump will eventually be defeated by the distance between his universe and the real one. The question has always been how long that would take, and how much damage would be done in the process. But the toll has been piling up of late. 205,000 dead, a stalled economy, a broken constitution, a bankrupt treasury, a ravaged environment, and the most toxic political culture in memory have not, exactly, made America great "again". And, with his tax returns now public, the reality that Trump is a failed businessman and tax dodger is as inescapable as the truth that he is a serial sexual abuser. https://andrewsullivan.substack.com/p/reality-ends-the-reality-show
6. Jonathan Capehart: Joe Biden spoke for millions when he told Trump to 'shut up, man'
President Trump's performance at the first presidential debate was so petulant and disgusting that it has taken me this long to put my thoughts to pixels. It's not like I was surprised by what he did. Trump has been barking lies and obscenities at the American people since June 16, 2015. What was breathtaking on Tuesday was the ferocity of his bullying. It was a Brett Kavanaugh-like performance that reeked of desperation.
The chaos in Cleveland reinforced my belief that Trump will do everything to win. He'll do anything to maintain his shield from criminal prosecution and to continue monetizing the presidency — perhaps to make enough money to pay the $421 million in debts and loans that are coming due within the next four years, according to the New York Times. Trump is as pathetic as he is dangerous. https://www.washingtonpost.com/opinions/2020/10/01/joe-biden-spoke-millions-when-he-told-trump-shut-up-man/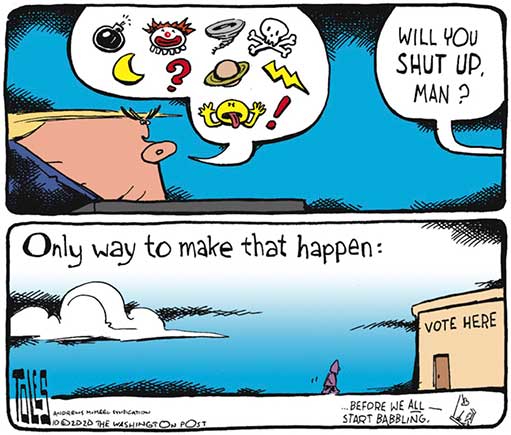 7. Jim Rutenberg: How President Trump's false claim of voter fraud is being used to disenfranchise Americans.
As the 2020 presidential election nears, it is becoming clear that the Trump administration and the Republican Party are not just looking at but heavily investing in the largely nonexistent problem of voter fraud. A New York Times Magazine investigation, based on a review of thousands of pages of court records and interviews with more than 100 key players — lawyers, activists and current and former government officials — found an extensive effort to gain partisan advantage by aggressively promoting the false claim that voter fraud is a pervasive problem. The effort takes its most prominent form in the president's own public statements, which relentlessly promote the false notion that voter fraud is rampant.
This story did not originate with Trump. It has its roots in Reconstruction-era efforts to suppress the votes of newly freed slaves and came roaring back to life after the passage of the Voting Rights Act. But it is reaching an apex now, as a president who lost the popular vote in 2016 and is currently trailing in the polls harnesses the reality-warping powers of social media and the resources of at least four federal agencies to undermine faith in an election he could very well lose.
Voter fraud is an adaptable fiction, and the president has tailored it to the moment. Even as the coronavirus pandemic poses a grave obstacle to his re-election, the crisis is providing him an opportunity to do what no other president has done before him: use the full force of the federal government to attack the democratic process, suppress the votes of American citizens and spread grievance and suspicion among his followers. Recently, perhaps predictably, the president has begun to suggest that because of his professed distrust in the election process, he will not agree to a peaceful transition of power. https://www.nytimes.com/2020/09/30/magazine/trump-voter-fraud.html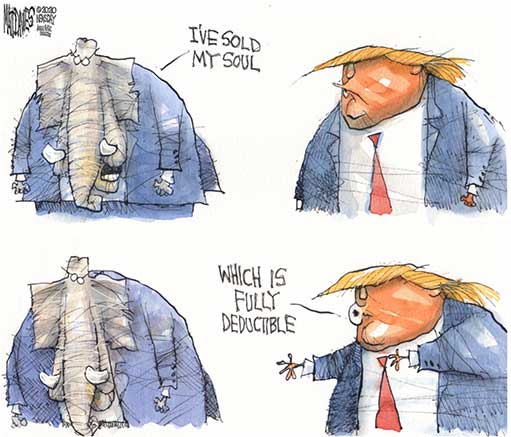 8. Benjamin Hart: Trump Says Biden Will Make Minnesota a 'Refugee Camp'
Fresh off the heels of his disastrous presidential debate performance, during which he refused to condemn white nationalists, President Trump traveled to Duluth, Minnesota, on Wednesday, where he engaged in some fresh demagoguery in front of a delighted crowd.
Trump whipped his overwhelmingly white audience into a frenzy on the topic of immigration and Ilhan Omar, the outspoken Minnesota congresswoman who has often been the target of the president's xenophobic rhetoric.
The president claimed that Joe Biden would enable a 700 percent increase in refugees in the state, turning the state into a "refugee camp" — a claim echoing a recent Trump ad claiming that immigrants will bring more COVID-19 to America, which was so incendiary that it didn't meet Facebook's standards. (The crowd booed at the mention of refugees.) Trump then went after Omar, claiming she was guilty of "ballot harvesting" (based on a deceptive video put out by right-wing disinformation prince James O'Keefe) and corruption, and then lobbing a familiar, yet newly repugnant attack. The crowd briefly chanted "Lock Her Up!" — a chorus usually reserved for Hillary Clinton.
Some Republicans offered extremely mild criticism of Trump after he told the violent group Proud Boys to "stand by" on Tuesday. But poisonous anti-immigrant (and particularly Islamophobic) rhetoric is so standard for the president that Wednesday's comments are unlikely to cause much of a ripple among his allies — or even among his Democratic adversaries, who like the general public have become inured to racism as a campaign strategy. https://nymag.com/intelligencer/2020/10/trump-says-biden-will-make-minnesota-a-refugee-camp.html
9. Barton Gellman: The Election That Could Break America
Trump's state and national legal teams are already laying the groundwork for post-election maneuvers that would circumvent the results of the vote count in battleground states. Ambiguities in the Constitution and logic bombs in the Electoral Count Act make it possible to extend the dispute all the way to Inauguration Day, which would bring the nation to a precipice. The Twentieth Amendment is crystal clear that the president's term in office "shall end" at noon on January 20, but two men could show up to be sworn in. One of them would arrive with all the tools and power of the presidency already in hand.
"We are not prepared for this at all," Julian Zelizer, a Prince­ton professor of history and public affairs, told me. "We talk about it, some worry about it, and we imagine what it would be. But few people have actual answers to what happens if the machinery of democracy is used to prevent a legitimate resolution to the election." https://www.theatlantic.com/magazine/archive/2020/11/what-if-trump-refuses-concede/616424/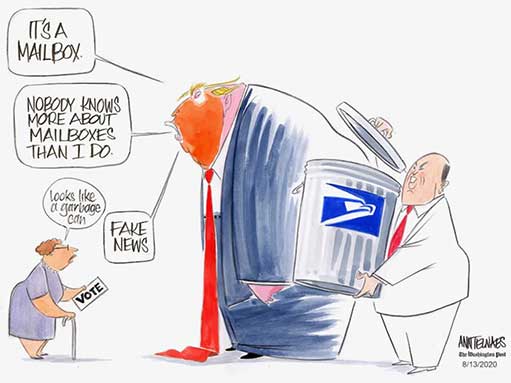 10. Stephen Wertheim: How Trump Brought Home the Endless War
Having come to power exploiting the fears spawned by perpetual war abroad, Trump is defining the enemy of his war at home just as expansively. "To stop the political violence," he said in Kenosha, "we must also confront the radical ideology that includes this violence." For Trump, this allegedly radical ideology pushes "the destructive message that our nation and our law enforcement are oppressive or racist." The implication is that anyone who objects to police brutality or racism is abetting insurrectionist violence. Either you are with Trump, in other words, or you are with the terrorists.
If he loses the election in November, will he step aside in deference to those he claims would destroy the country? Will his supporters? This summer the United States entered into a condition of "incipient insurgency," in the estimation of David Kilcullen, a former adviser to the Army. The vast majority of protests associated with Black Lives Matter have been completely peaceful, but twenty violent groups, both left and right, have entered the fray, in addition to individual attackers and routine shootings by police. In the name of law and order, the President has stoked one side of the violence, encouraging toughness by police and militias and waving away the lethal conduct of Trump supporters like Kyle Rittenhouse.
The Republican National Convention made clear that Trump is no longer running against the establishment. This time around, he is running a militant campaign against the half of the country that rejects his rule and is certain to vote against him in November. "If the Democrat Party wants to stand with anarchists, agitators, rioters, looters, and flag burners, that is up to them," Trump declared in his seventy-minute address. He has since suggested that protesters are well funded, organized, and part of a coup to take him down. The Department of Homeland Security indicates otherwise; it reportedly projects that white supremacists, not left-wing radicals, will remain the most "persistent and lethal threat" in the United States in the next year. At what point might America's cold civil war become hot? Has it already? https://www.newyorker.com/news/our-columnists/how-trump-brought-home-the-endless-war
11.  Susan B. Glasser: "There Is Zero Reason to Panic": On Trump's Coronavirus Case and the Shredded Credibility of His White House
As Thursday began, it seemed like just another day of Trumpian meltdown in the nation's capital. The President was still refusing to repudiate white supremacy and his press secretary was still lying about it, part of the continued fallout from Trump's disastrous debate performance days earlier. Trump's former national-security adviser was on television charging that the President is "aiding and abetting" Vladimir Putin by attacking the legitimacy of the forthcoming election. On Thursday evening, news broke that Trump's wife had been secretly taped by her former best friend ranting about her onerous White House Christmas duties and the unfairness of being blamed for her husband locking up migrant children in cages. "Give me a fucking break," the First Lady said.
In the upside-down world of this Presidency, it was not necessarily a terrible few hours on the campaign trail. At least the headlines were not focussed on the pandemic and concurrent economic crisis, which experts warned were on the precipice of getting much, much worse. In the seven months since the coronavirus became a national crisis, Trump has done everything he could to deny, deflect, and generally distract from the pandemic and his government's botched handling of it. If there is one thing he has not wanted the election of 2020 to be a referendum on, it is his handling of the disease. So much for that. At 12:54 a.m. a Presidential tweet confirmed that Trump and the First Lady both have covid-19. For the rest of the campaign, we will be talking about it, and pretty much nothing else.
The truth is, this is probably the least surprising national shock ever. For months, Trump has made coronavirus denialism his signature, at great cost to millions of Americans, more than two hundred thousand of whom are now dead. He courted personal as well as political disaster by refusing to wear a mask publicly and by encouraging others not to do so, either. His positive coronavirus test always had the feel of an inevitable plot twist. But the President of the United States getting diagnosed with a potentially lethal illness for which there is no cure a month before a national election is no less monumental for being fully anticipated. Will Trump recover? Will we believe him, or his discredited White House, if he claims that he has?
By Friday, nothing was clear except that Washington was trapped in a new waiting game, wondering about the health of an obese seventy-four-year-old with a penchant for not telling the truth about his health. Wondering how it would affect the election thirty-two days from now; wondering how 2020 could once again deal us such a hand. History is so much less exhausting when it happens to other people. https://www.newyorker.com/news/letter-from-trumps-washington/there-is-zero-reason-to-panic-on-trumps-covid-case-and-the-shredded-credibility-of-his-white-house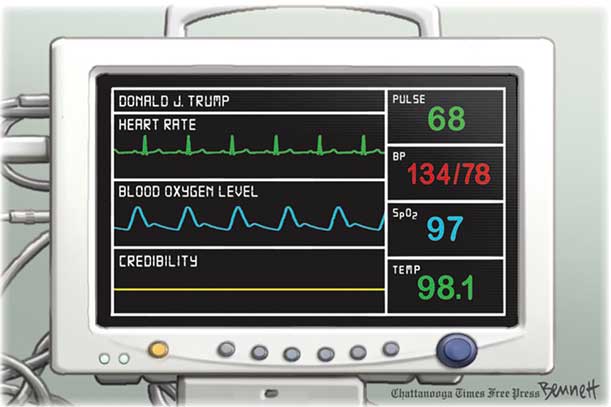 12. Jonathan Chait: Trump Is Now Living His Coronavirus Management Strategy
"I don't wear masks like him," President Trump sneered at Joe Biden at the debate Tuesday night. "Every time you see him, he's got a mask. He could be speaking 200 feet away and he shows up with the biggest mask I've ever seen."
COVID-19 is not a morality test. It afflicts the careful as well as the heedless. Some of its victims have jobs that inherently expose them to risk. Biden has taken every precaution, but might contract the virus because he was exposed to Trump, who hasn't. And nobody, however heedless they may be to the safety of themselves or others, deserves to suffer.
But as coronavirus victims go, Donald Trump is as far from innocent as you can get. He and his supporters may wish to treat his positive test as a national tragedy for which we can express no thought other than a prayer for his recovery, a kind of mini-9/11. The truth is that Trump is deeply culpable not only for the national response to the pandemic but his own condition. https://nymag.com/intelligencer/2020/10/trump-coronavirus-positive-test-rallies-biden-masks-circles-social-distancing.html
13. Maureen Dowd: Reality Bursts the Trumpworld Bubble
Fate leads the willing, Seneca said, while the unwilling get dragged.
For his entire life, Donald Trump has stayed one step ahead of disaster, plying his gift for holding reality at bay.
He conjured his own threadbare reality, about success, about virility, about imbroglios with women, even about the height of Trump Tower.
As president, he has created a bubble within his bubble, keeping out science and anything that made him look bad. He has played a dangerous game of alchemizing wishes to facts, pretending that he was a strong leader, pretending that the virus will magically disappear and that it "affects virtually nobody,'' pretending that we don't have to wear masks, pretending that dicey remedies could work, pretending that the vaccine is right around the corner.
Now, in a moment that feels biblical, the implacable virus has come to his door.
This was the week when many of the president's pernicious deceptions boomeranged on him. It was redolent of the "Night on Bald Mountain" scene in "Fantasia,'' when all the bad spirits come out in a dark swarm.
It's impossible to know how — or even whether — this illness will change the president. But hopefully it will change his skeptical followers and make them realize that this vicious microbe really is contagious, that President Trump is not invulnerable and that therefore they are not either, that crowding together at rallies is not smart, that wearing a mask is important, and that it's not all going to disappear like a miracle. https://www.nytimes.com/2020/10/03/opinion/sunday/trump-coronavirus-covid.html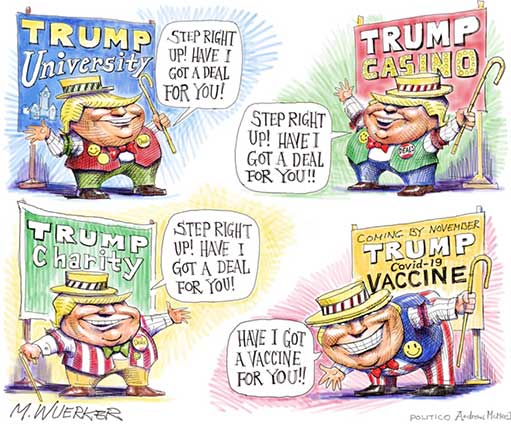 14. Amy Davidson Sorkin: What a Positive Test Won't Change About Trump and the Pandemic
Trump's negligence about the coronavirus is of a piece with who he is. By the end of Tuesday night's debate, it was easy to wonder just how many forms of violence Trump might be willing to inflict on the country, from heedlessly telling quasi-militarized white supremacists to "stand back and stand by" to urging supporters to "go into the polls and watch very carefully."
When Wallace asked if he was telling people to take to the streets, he didn't deny it. He was ready to expose Americans to another source of physical harm: the unmanaged pandemic. "You got to open these states up. It's not fair!" Trump said—meaning, presumably, that not doing so was inconsiderate of his electoral prospects and his vanity.
The reality that, with children returning to school and cold weather on its way, the next weeks will require vigilance and delicate coördination to head off a truly devastating winter, seems lost on him. Instead, he complained that Democratic governors were deliberately waiting until the week after the election to reopen, for no reason other than that "they think they're hurting us." https://www.newyorker.com/news/daily-comment/what-a-positive-test-wont-change-about-trump-and-the-pandemic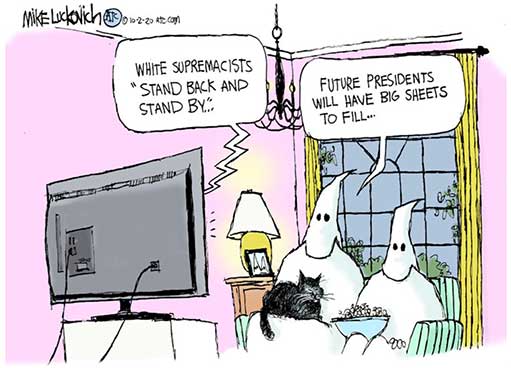 15. Jonathan Chait: Trump's Tax Returns Show Lying Is His Only Marketable Skill
While Donald was never able to equal his father's prowess as a builder and landlord, his talent as a confidence man far surpassed it. Trump leveraged his fame into a series of scams: "Trump University" (a fake real-estate-training seminar designed to bleed its victims dry); the "Trump Network" (selling its targets urine-testing systems, which would be used to direct them to buy overpriced vitamins); using the "Trump Foundation" as a racket to funnel supposedly charitable funds into his pocket, and so on.
At times, these scams have edged close to outright criminality. At other times, they have crossed over the line. Trump is currently under investigation for tax fraud. And, as law professor and tax expert Daniel Shaviro argues, the information in Trump's recent returns strongly suggests more outright fraud — deductions like hairstyling and a country estate seem to violate black-letter rules governing tax deductions.
The arc of Trump's career has been to exploit a series of victims, pocket his winnings, and use them to find new ones. He lied to a series of reporters, built and sold an image as a brilliant deal-maker, scammed his fans out of their money, and lied to the government about his income.
Trump's political career is a natural step in the progression, one he had been contemplating for decades. The Republican Party was a perfect vehicle for a character like Trump. The mainstream media had grown steadily more resistant to his lies, but the conservative media ecosystem was fertile terrain, a propaganda machine so attuned to his needs that he didn't even need to try to fool them. Whatever lies other Republicans would spout about Barack Obama or climate change or the wonder-working powers of tax cuts, Trump would exceed them. From Fox News to Hugh Hewitt to the anti-anti-Trumpers, his acolytes simply did not care whether anything he said was true.
Trump (or, more precisely, his ghostwriter) once claimed, "Deals are my art form. Other people paint beautifully or write poetry. I like making deals, preferably big deals." The last four years have made it apparent Trump is bad at striking deals, despite being free of the burden of having principles. Deals are not his art form.
Lying is. Lying is how he rebuilt his fortune after he ran through his inheritance, and how he kept his head above water financially. Lying may or may not be enough to get him a second term, or even to keep him out of prison. But if you are betting that Trump's lies will stop working, you are betting against the evidence of his entire adult life. https://nymag.com/intelligencer/2020/09/trump-tax-returns-new-york-times-taxes-criminal-lying-business.html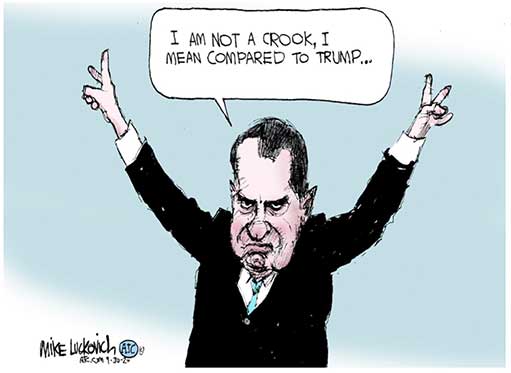 16. Marina Hyde: After Donald Trump's deranged balcony address, we're all gasping together
A rare moment of unity in the US election, as Donald Trump marked his return to the White House by gasping along with his detractors. On Monday night, the president puffed up the front staircase of his residence, his face coated in several more gallons of paint than the front elevation of the building. "Don't let it dominate your lives," he panted of the virus, a bad case of which tends to dominate your death.
Yet there he was, this hideous kink in the arc of history, giving the most dangerous balcony performance since Michael Jackson had his baby crowdsurf off one. The American people are all Blanket now.
As for the optics, "deranged balcony address" is certainly a look – but not one that tends to end well. How might this version turn out? Unfortunately, it's not a question Trump's attention span equips him to answer. His reference points for the form are the occasional three minutes of historical documentaries he's forced to watch while searching his stomach-folds for the TV remote. It feels like he switches over to Fox News before discovering how a whole series of 20th-century balcony stories ended. https://www.theguardian.com/commentisfree/2020/oct/06/donald-trump-coronavirus-balcony-drugs
17. Julie Brigham-Grette and Steve Petsch: Dramatic changes in the Arctic suggest climate change could return Earth to Pliocene conditions of 3 million years ago
Today human activities are overwhelming the natural processes that pull CO2 out of the atmosphere. At the dawn of the Industrial Era in 1750, atmospheric CO2 stood at about 280 parts per million. It has taken humans only 200 years to completely reverse the trajectory begun 50 million years ago and return the planet to CO2 levels not experienced for millions of years.
Most of that shift has happened since World War II. Yearly increases of 2-3 parts per million now are common. And in response, the Earth is warming at a fast pace. Since roughly 1880 the planet has warmed by 1 degree Celsius (2 degrees Fahrenheit)– many times faster than any warming episode in the past 65 million years of Earth's history.
In the Arctic, losses of reflective snow and ice cover have amplified this warming to +5 C (9 F). As a result, summertime Arctic sea ice coverage is trending lower and lower. Scientists project that the Arctic will be completely ice-free in summerwithin the next two decades.
This isn't the only evidence of drastic Arctic warming. Scientists have recorded extreme summer melt rates across the Greenland Ice Sheet. In early August, Canada's last remaining ice shelf, in the territory of Nunavut, collapsed into the sea. Parts of Arctic Siberia and Svalbard, a group of Norwegian islands in the Arctic Ocean, reached record-shattering high temperatures this summer.
Coastal cities, agricultural breadbasket regions and water supplies for many communities all will be radically different if this planet returns to a Pliocene CO2 world. This future is not inevitable – but avoiding it will require big steps now to decrease fossil fuel use and turn down Earth's thermostat. https://www.marketwatch.com/story/dramatic-changes-in-the-arctic-suggest-climate-change-could-return-earth-to-pliocene-conditions-of-3-million-years-ago-11601495655