July 7, 2016
ON THE RECORD. . .
He (Trump) casts his intellectual laziness as a choice, a deliberate avoidance of expert views that might contaminate his ill-informed opinions. He excused his failure to consult professionals before commenting on the Brexit vote by dismissing foreign policy advisers in general, including his own… He's a charlatan, preposterously posing as a business genius while cheating investors, subcontractors, and his own customers. He's rich because his father left him a great deal of money… He possesses the emotional maturity of a 6-year-old. He can't let go of any slight, real or imagined." -- Mark Salter 6/29/16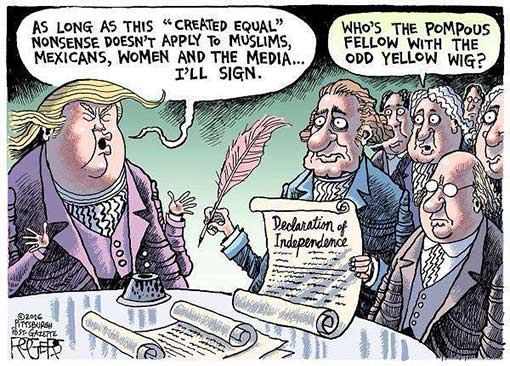 "We can get into that if you want. We can get into the fact that he accused my best friend's father of conspiring to kill JFK. We can go through the fact that he's made statements that some have identified correctly as religiously intolerant. We can get into the fact that he's wildly unpopular in my state, in part because my state consists of people who are members of a religious minority church. A people who were ordered exterminated by the governor of Missouri in 1838. And, statements like that make them nervous." -- Sen. Mike Lee (R-UT) on why he hasn't endorsed Donald Trump.
"It was a rough campaign, and I wasn't nice, but they weren't nice either. Honestly, you sign a pledge, you're supposed to honor the pledge. ... They broke their word, and in my opinion, they shouldn't be allowed to run for office again… because what they did is disgraceful." -- Donald Trump on his former GOP rivals not endorsing him.
Gingrich just *has* to be Trump's running mate. Newt is a dumb guy's idea of a smart guy; Trump is a poor guy's idea of a rich guy. -- Ish @Ish
The Republicans who promised to support the nominee no matter who made an error in judgment. That's forgivable. But now it is time to admit the error, step up, and do the right thing. In this case, that means taking a page from the Reagan playbook, meaning the Nancy Reagan playbook: Just say, "No." Hell, no. – Kevin D. Williamson in the National Review.
"In looking back at our investigations into the mishandling or removal of classified information, we cannot find a case that would support bringing criminal charges on these facts. Past prosecutions generally involved "clearly intentional and willful mishandling, vast quantities of materials, or "indications of disloyalty to the United States or efforts to obstruct justice. We do not see those things here. We are expressing to Justice our view that no charges are appropriate in this case." -- FBI Director James Comey 7/05/16 Read more at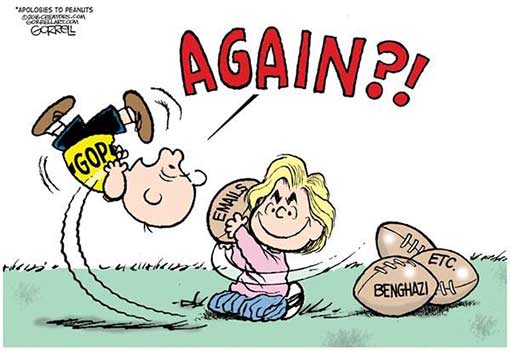 "It wasn't just what happened in the limelight that made me grow more and more to admire and respect Hillary. I saw how she treated everybody with respect, even the folks who aren't, quote-unquote, important. That's how you judge somebody—is how do they treat somebody when the cameras are off and they can't do anything for you. Do you still treat 'em right? Do you still treat 'em with respect? Do you still listen to 'em? Are you still fighting for 'em?" --President Obama during his campaign debut with Hillary Clinton . 7/05/16
"It's over. It's time to move on. Republican attempts to continue their political hit job are just that: They're political." -- Senate Minority Leader Harry Reid (D-Nev.) on Republicans criticizing the FBI for not recommending charges against Hillary Clinton. 6/06/16
---
IN THIS ISSUE
1. Fact checker looked into 158 things Donald Trump said. 78 percent were false
2. The forgotten G.W. Bush email scandal
3. The DAILY GRILL
4. FiveThirtyEight's 2016 Election Forecast: Who will win the presidency?
5. From MEDIA MATTERS (They watch Fox News so you don't have to)
6. Late Night Jokes for Dems
7. From the Late Shows
8. Political Ads/Statements
9. Growing list of big-name Republicans supporting Hillary Clinton
11. What If Trump Decides He Can't Win?
12. Mark Fiore Cartoon: The What About X Committee
13. The Borowitz Report: Congressional Republicans Vote To Abolish F.B.I. 
14. Hillary Clinton's request for a secure phone for email was turned down by NSA
15. Bernie Can Endorse Her Now
1. Mark Singer: Trump, The Man And The Image
2. Tim Mak, Andrew Desiderio and Alexa Corse: GOP National-Security Experts Are #ReadyForHer
3. Steve Chapman: On Trade, Trump Is an Encyclopedia of Error
4. Ashley Parker and Steve Eder: Inside the Six Weeks Donald Trump Was a Nonstop 'Birther' 
5. Paul Waldman: Trump vs. the Trump campaign
6. Catherine Rampell: 'Trade' has become a hot election topic. Here's what it really means.
7. Paul Waldman: How Donald Trump turned Republicans' smoldering resentments into a dumpster fire
8. Damon Linker: Donald Trump should not be president of the United States
9. Rmuse: Stop Parroting GOP Lies That Hillary Clinton Is Dishonest
1. Fact checker looked into 158 things Donald Trump said. 78 percent were false
Of the 158 Trump claims that PolitiFact has checked out, 95 have been rated either "False" or "Pants on Fire." That's 60 percent of all Trump claims. As PolitiFact notes, if you include the Trump statements rated "mostly false" in that group, 78 percent of all of Trump's fact-checked claims have been scored "mostly false" or worse.
That's not even the most amazing fact in the PolitiFact report. That honor goes to this: "Trump has more statements rated Pants on Fire, 30, than the 21 other candidates for president we've fact-checked this cycle combined." Ben Carson comes in second in "Pants on Fire" ratings -- with four! https://www.washingtonpost.com/news/the-fix/wp/2016/07/01/donald-trump-has-been-wrong-way-more-often-than-all-the-other-2016-candidates-combined/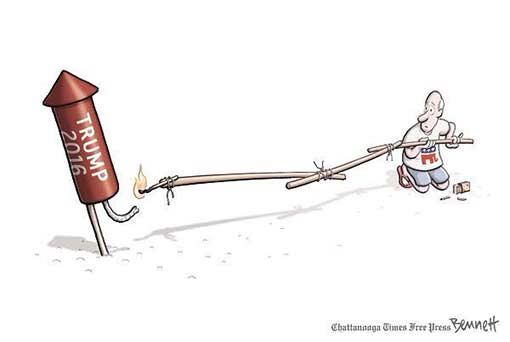 2. The forgotten G.W. Bush email scandal
Responding to congressional demands for emails in connection with its investigation into the partisan firing of eight U.S. attorneys, the Bush White House announced that as many as 5,000,000 emails, covering a two-year span, had been lost.

The White House email story broke on a Wednesday. Yet on that Sunday's Meet The Press, Face The Nation, and Fox News Sunday, the topic of millions of missing White House emails did not come up. At all.

It's curious how the D.C. scandal machine could barely get out of first gear when the Bush email story broke in 2007 while the Clinton email story has triggering a firestorm that has consumed the Beltway chattering class. 3/12/15 Read more at http://www.salon.com/2015/03/12/the_george_w_bush_email
_scandal_the_media_has_conveniently_forgotten_partner/

More about lost Bush emails at http://correctrecord.org/reminder-hillary-clintons-shameless-email-critics-have-massive-actual-email-scandals/
3. The DAILY GRILL
I made a lot of money in Atlantic City and left 7 years ago, great timing (as all know). Pols made big mistakes, now many bankruptcies. -- Donald J. Trump ✔@realDonaldTrump 7/06/16

VERSUS

Here's what he did. He intentionally ran up huge amounts of debt on his companies, hundreds of millions of dollars. He borrowed at high interest rates, even after promising regulators that he wouldn't. What came next? He defaulted on those loans, didn't pay them back, and in the end, he bankrupted his companies, not once, not twice, but four times. -- Hillary Clinton 7/05/16

 

The system is rigged. General Petraeus got in trouble for far less. Very very unfair! As usual, bad judgment. -- Donald J. Trump @realDonaldTrump

VERSUS

As the former U.S. attorney for the Western District of North Carolina, I oversaw the prosecution of Gen. Petraeus, and I can say, based on the known facts, this comparison has no merit. The key element that distinguishes Secretary Clinton's email retention practices from Petraeus' sharing of classified information is that Petraeus knowingly engaged in unlawful conduct, and that was the basis of his criminal liability. -- Former prosecutor Anne M. Tompkins, who oversaw the Petraeus case 7/5/16

 

"Donald J. Trump has honored the pledge he made on May 13, 2016, when he stated, 'I have absolutely no intention of paying myself back for the nearly $50 million dollars I have loaned to the campaign. This money is a contribution made in order to 'Make America Great Again.' Mr. Trump has fully extinguished (terminated) this loan per his commitment. Therefore, he has personally invested in excess of $50 million dollars in the future of our country." -- People Magazine 6/23/16

VERSUS

"In his most recent FEC filing, which posted June 20, Trump treated all his spending on the campaign as loans. An FEC staff member tells NBC News there is no new filing changing Trump's loans. The FEC's candidate tracking page, which posts filings, does not show new paperwork from Trump changing his loans." -- NBC News
4. FiveThirtyEight's 2016 Election Forecast: Who will win the presidency?
Chance of winning: Hillary Clinton: 80.0 %, Donald Trump 20.0 %

Electoral Votes: Hillary Clinton: 351.6, Donald Trump 185.6, Gary Johnson 0.7

Popular vote: Hillary Clinton 48.9%, Donald Trump 41.8%, Gary Johnson 8.0% http://projects.fivethirtyeight.com/2016-election-forecast/
5. From MEDIA MATTERS (They watch Fox News so you don't have to)
Right-Wing Media Adopt Trump's "Pocahontas" Attacks On Elizabeth Warren http://mediamatters.org/research/2016/06/30/right-wing-media-adopt-trump-s-pocahontas-attacks-elizabeth-warren/211303

CNN Trump Supporter Kayleigh McEnany Calls Waterboarding "Putting Someone In A Bit Of Discomfort To Extract Information" http://mediamatters.org/video/2016/06/30/cnn-trump-supporter-calls-waterboarding-putting-someone-bit-discomfort-extract-information/211292

John McCain Speaks Out Against Torture As Fox News Praises Trump For Waterboarding Comments http://mediamatters.org/blog/2016/06/29/john-mccain-speaks-out-against-torture-fox-news-praises-trump-waterboarding-comments/211287

Conservatives Lose Their Excuse To Question The Results Of The Clinton Email Investigation http://mediamatters.org/research/2016/07/01/conservatives-lose-their-excuse-question-results-clinton-email-investigation/211326

Laura Ingraham Suggests People Wear Diapers Rather Than Share Bathrooms With Transgender People http://mediamatters.org/video/2016/06/29/laura-ingraham-suggests-people-wear-diapers-rather-share-bathrooms-transgender-people/211276
6. Late Night Jokes for Dems
"Even though he has no chance of winning the nomination, taxpayers are still paying for Bernie Sanders to have Secret Service. It's not that expensive though, it's just one guy that goes out late at night to buy Fig Newtons." –Conan O'Brien

"A new poll came out and it claims that 25 percent of voters remain undecided. Apparently, they're undecided on whether to move to Canada or Mexico." –Conan O'Brien

"Donald Trump thanked crowds for their support this weekend, saying, 'I feel like a supermodel, except like times ten.' By the way, 'supermodel times ten' is also his spray tan setting." –Seth Meyers

"One of Trump's big supporters, New Jersey Gov. Chris Christie, is having a rough week. Lawyers working on the Bridgegate investigation claim that Christie destroyed evidence connecting him to the scandal, including a cellphone. Christie said he had no idea where the cellphone was, then his stomach started ringing." –Jimmy Fallon

"The FDA says it found 'serious health violations' at some Whole Foods stores and actually sent Whole Foods a warning letter. In response, Whole Foods shredded the letter, mixed it with some kale, and is now selling it for $18 a pound." –Jimmy Fallon

"Oprah has endorsed Hillary Clinton for president. When asked about Hillary's chances of becoming the most powerful woman in the world, Oprah said, 'Oh, I'm not stepping down.'" –Conan O'Brien

"Trump said much of the information about him is false. And if people want to read hundreds of pages of false information about him, they should go to his Twitter page where he writes it himself." –Jimmy Kimmel

"Donald Trump said he would, unlike previous presidents, sit down and meet with Kim Jong Un to make a kind of deal but only on U.S. soil. I don't think that will work. I think they should meet but somewhere neutral, like at a Supercuts." –Jimmy Kimmel

"Today is the one-year anniversary of Donald Trump's announcement that he would run for president. It's hard to believe it was only one year ago that Democrats were worried about Jeb Bush." –Seth Meyers
7. From the Late Shows
Full Frontal with Samantha Bee: Rue Britannia

Lie Witness News - Hillary Clinton Email Edition

The Daily Show w/Trevor Noah: Fact checked Donald Trump's economics speech

http://www.cc.com/video-clips/i7m3r1/the-daily-show-with-trevor-noah-what-the-actual-fact----donald-trump-s-garbage-wall-speech

The Late Show with Stephen Colbert: Fun With Presidential Polling

Daily Show with Jessica Williams: Bernie Or Bust: Why Bernie Sanders Supporters Turn To Donald Trump

http://www.cc.com/video-clips/ryu5fc/the-daily-show-with-trevor-noah-bernie-or-bust--why-bernie-sanders-supporters-turn-to-donald-trump
8. Political Ads/Statements
Made in the USA? | The Briefing

https://www.youtube.com/watch?v=UVu-QeLh2rM

Donald Trump's Atlantic City gamble | The Briefing
9. Growing list of big-name Republicans supporting Hillary Clinton
Bush administration officials
Henry Paulson, treasury secretary
Richard Armitage, deputy secretary of state.
Brent Scowcroft, chairman of the President's Intelligence Advisory Board 
Alan Steinberg, regional EPA administrator
Kori Schake, National Security Council and State Department aide

Advisers to previous GOP presidents
Doug Elmets, former Reagan spokesman
Jim Cicconi, former Reagan and George H.W. Bush aide

Foreign policy leaders
Robert Kagan, co-founder of the Project for the New American Century
Max Boot, senior fellow at the Council on Foreign Relations
Peter Mansoor, retired Army colonel and former aide to David Petraeus.

Business leaders/donors
Marc Andreessen, venture capitalist 
Dan Akerson, former chairman and chief executive of General Motors
Chuck Robbins, chief executive of Cisco
Hamid Moghadam, chairman and chief executive of Prologis.
William Oberndorf, $3 million to GOP candidates since 2012
Mike Fernandez, $4 million to GOP candidates in recent years

Former Republican elected officials
Larry Pressler, former three-term Republican senator from South Dakota
Arne Carlson, a former two-term Republican governor of MN
Robert Smith, former New York state Supreme Court justice

Political operatives
Mark Salter, former top adviser to John McCain
Mike Treiser, former Mitt Romney aide.

Journalists
Ben Howe, editor at RedState.com

Details at https://www.washingtonpost.com/news/the-fix/wp/2016/06/30/heres-the-growing-list-of-big-name-republicans-supporting-hillary-clinton/
11. What If Trump Decides He Can't Win?
What will happens if Mr. Trump decides he can't win and no longer is willing to throw good money after bad? Most likely, he will simply and cold-bloodedly toss the ball to the GOP, saying, in effect, 'If you want to pay for some events or TV, I'm available. Otherwise I'm done.' The GOP would then have to shoulder the dual burden of propping up a minimally respectable Trump campaign while also distancing its down-ballot candidates from Mr. Trump so they might survive. 7/02/16 Read more at https://politicalwire.com/2016/07/02/what-if-trump-decides-he-cant-win/
12. Mark Fiore Cartoon: The What About X Committee
13. The Borowitz Report: Congressional Republicans Vote To Abolish F.B.I.
In a stunning rebuke to one of the nation's oldest and most established law-enforcement agencies, House Republicans voted unanimously on Tuesday to abolish the Federal Bureau of Investigation.

Unlike most House measures, which come up for a vote only after months or even years of sluggish effort, the bill to eliminate the F.B.I. was drafted in a matter of minutes on Tuesday morning, Republican staffers confirmed.

House Speaker Paul Ryan offered no specific reason for the Republicans' sudden frenzy of activity to abolish the F.B.I., but said that the Bureau represented "big government at its worst."

"This is an agency that, when given even the simplest task to do, can't manage to do it right," he said.

Representative Trey Gowdy of South Carolina bemoaned the F.B.I.'s "bloated and wasteful" annual budget of eight billion dollars, which he said could easily pay for an additional eleven hundred Benghazi investigations. Read more at http://www.newyorker.com/humor/borowitz-report
14. Hillary Clinton's request for a secure phone for email was turned down by NSA
One day after the FBI Director criticized Hillary Clinton for her use of email while Secretary of State, even as he made clear that no charges would be appropriate, it's now coming to light that Clinton actually went to great effort to obtain more secure email devices but was turned down by other agencies. Weeks after being sworn in at State, she asked the NSA for a secure smartphone upon which she could conducted her email, but the request was repeatedly denied. 7/06/16 Read more at http://www.dailynewsbin.com/news/hillary-clinton-asked-nsa-for-secure-phone-for-email-when-she-first-took-office-was-rejected/25100/
15. Bernie Can Endorse Her Now
Bernie Sander's post-primary behavior has caused a fair amount of head-scratching. One minute he says he'll vote for Hillary, the next he's parsing the meaning of "endorsement."
Some have wondered whether he's been waiting for the email issue to be resolved. Well, the time for conjecture is over. The email issue is no longer a obstacle on Hillary's path to history.
Bernie should ollow Elizabeth Warren's lead and endorse Hillary - it's the right thing to do. 7/05/16 Read more at http://bluenationreview.com/you-can-endorse-her-now-bernie/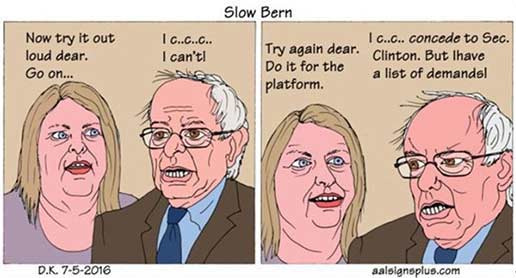 1. Mark Singer: Trump, The Man And The Image
Throughout the primaries, Trump rallies routinely featured his boasts about the most recent polling results. In the absence of plausible policy specifics, a coherent philosophy, a regard for nuance, or an acknowledgment of the exigencies of governance, this ritual seemed an end in itself. From there, he would ramble on about China, winning, losing, Islamic terror, Muslims, Mexicans, bigness, something about something that must be true because he read it or heard it somewhere, the disgusting lying press, and, inevitably, his fantastic super-successful incredibly intelligent self. The faithful could never get enough. One can imagine George Orwell trapped in a sea of waving "Make America Great Again!" signs when he found the poetry to define the design of political language: "to make lies sound truthful and murder respectable, and to give an appearance of solidity to pure wind."
For Trump it is all a game, one in which, though this seems an odd way to characterize it, he has outsmarted himself fatally. He famously sleeps only four hours a night—sufficient, one assumes, to squeeze in a recurring nightmare of November 9th headlines screaming "loser!!" Vast evidence suggests that such a scenario is what he has dreaded most throughout his life. Still, the voters who support him will not be going anywhere. The resentment that he has exploited to win their votes will remain and grow, as it will among like-minded populists in Europe who feel overwhelmed by globalization and, especially, immigration. At some point, it will hit his followers that they've been sold out by a huckster who coveted their votes only for the sake of his colossal self-regard. And that, all along, he had nothing real to offer. July 11th issue  Read more at http://www.newyorker.com/magazine/2016/07/11/trump-the-man-and-the-image
2. Tim Mak, Andrew Desiderio and Alexa Corse: GOP National-Security Experts Are #ReadyForHer
The paucity of support for Trump reflects the Republican's unorthodox national security stances. He has slaughtered the sacred cows of the right's traditional foreign policy philosophies by disparaging NATO and displaying an openness to Vladimir Putin; his anti-Muslim rhetoric contrasts sharply with the openness of the Bush administration toward America's Muslim community; his policy on trade is to press America to turn in on itself, instead of opening up to new markets.
Trump's current foreign policy team is essentially an island of misfit toys: a Christian academic accused of inciting anti-Muslim violence, a former DoD official who allegedly stood in the way of investigations into Bush administration bigwigs, and other so-called experts who are unheard of in established foreign policy circles. And the candidate's seminal national security address, delivered earlier this month, was widely panned as full of errors.
By challenging Republican foreign policy's long-held tenets, Trump has permanently estranged himself from the authors of those tenets. His campaign—and the Republican National Committee—will be emphasizing party unity in the coming months.
From the foreign policy perspective, at least, Trump will have to do without it. 6//30/16 Read more at http://www.thedailybeast.com/articles/2016/06/30/gop-national-security-experts-are-readyforher.html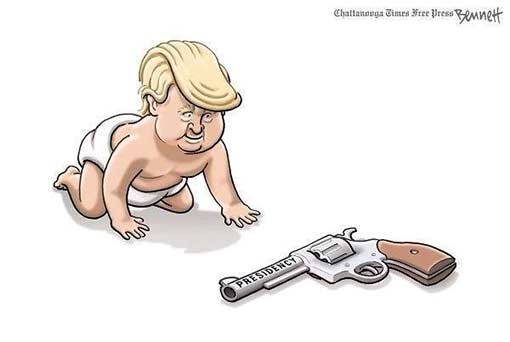 3. Steve Chapman: On Trade, Trump Is an Encyclopedia of Error
Donald Trump is not a professor, but for years he will be yielding insights to every student of economics. His Tuesday address on trade did a masterful job of combining antiquated fallacies with misinformation and ignorance to create an encyclopedia of error. Instructors have never had so much free help constructing their lesson plans.
The vision Trump conjures is one of alluring simplicity. He promises to achieve "economic independence" by abandoning globalization, instead using American workers to produce American goods. This change, he said, would "create massive numbers of jobs" and "make America wealthy again."
It's a scam, skillfully pitched to fool the gullible. His framework is a house of cards built on sand in a wind tunnel. Its most noticeable feature is a total divorce from basic economic realities.
Trump, however, thinks our economic troubles stem from the destruction of manufacturing production and employment, which he blames on foreign competitors. He's wrong on every point of this addled argument.
A Trump presidency would be useful for economists because it would serve to refute his misconceptions about trade -- just as a massive mudslide in Los Angeles is useful to physicists in dramatizing the power of gravity. But everyone else is advised to flee. 6/30/16 Read more at http://www.realclearpolitics.com/articles/2016/06/30/on_trade_trump_is_an_encyclopedia_of_error_131061.html
8. Ashley Parker and Steve Eder: Inside the Six Weeks Donald Trump Was a Nonstop 'Birther'
"The appeal of the birther issue was, 'I'm going to take this guy on, and I'm going to beat him,'" said Sam Nunberg, who was one of Mr. Trump's advisers during that period but was fired from his current campaign. "It was a great niche and wedge issue."
And starting in March 2011, when he first began to test the idea that a reality television star with no political experience could mount a campaign for the presidency, Mr. Trump could not stop talking about it.
"Why doesn't he show his birth certificate?" he asked on ABC's "The View." "I want to see his birth certificate," he told Fox News's "On the Record." And on NBC's "Today Show," he declared, "I'm starting to think that he was not born here."
The more Mr. Trump questioned the legitimacy of Mr. Obama's presidency, the better he performed in the early polls of the 2012 Republican field, springing from fifth place to a virtual tie for first.
That frenzied period culminated six weeks after it began in a surreal televised split screen between Mr. Trump and the White House briefing room, where aides released an image of the president's birth certificate proving he was born in Honolulu and Mr. Obama directly addressed the issue.
It was a remarkable moment that Mr. Trump celebrated as a political victory.
Mr. Trump also said repeatedly that he had sent a team of investigators to Hawaii to unearth information about Mr. Obama's birth records. "They cannot believe what they are finding," Mr. Trump told ABC's "The View."
But for all of his fascination with the president's birth certificate, Mr. Trump apparently never dispatched investigators or made much of an effort to find the documents. Read more at http://www.nytimes.com/2016/07/03/us/politics/donald-trump-birther-obama.html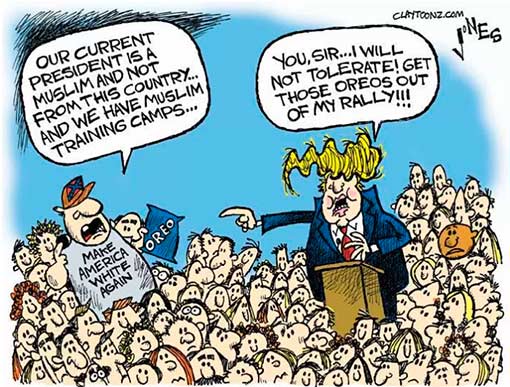 5. Paul Waldman: Trump vs. the Trump campaign
Every time Trump does an interview or holds another rally, we see his true self emerge, causing new controversies and alienating new groups of voters. And no party nominee has ever had so many conflicts with other politicians from his own party. There have been plenty of mediocre nominees whom other candidates have distanced themselves from to one degree or another. But there's never been one who comes in for such frequent rounds of condemnation from the politicians who are supposed to be out convincing people to vote for him.
From the beginning, one of the striking things about Trump was how alone he was. Even as he swept over his primary opponents, he got almost no endorsements from other Republicans, and had a fraction of the number of allies, surrogates, and informal advisers presidential candidates usually accumulate. He's had trouble recruiting staff, because so many of the Republican campaign pros who ordinarily would be on their nominee's team don't want to soil their resumes with service on what so many see as a doomed and ignominious effort (his new communication director had to hurriedly delete a bunch of anti-Trump tweets after he took the job). So it's left to that small number of staffers who are there to constrain their boss' disastrous instincts and misplaced confidence.
On the other hand, maybe they aren't trying all that hard. On Tuesday, his campaign chose a gigantic pile of garbage to serve as the backdrop for his latest prepared speech. It was either a hilarious screw-up, or a subtle self-aware commentary on the state of their campaign. If it was the latter, my hat's off to them. 6/29/16 Read more at http://theweek.com/articles/632923/trump-vs-trump-campaign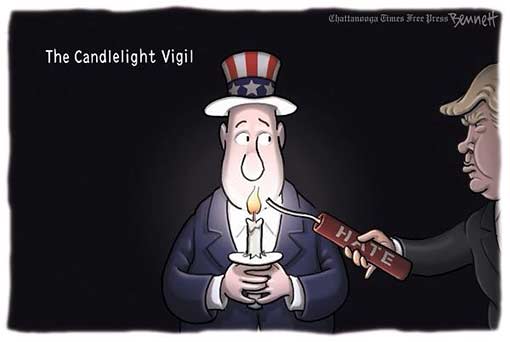 6. Catherine Rampell: 'Trade' has become a hot election topic. Here's what it really means.
Usually trade makes voters' eyes glaze over. It hasn't been a central, salient issue in presidential campaigns for about two decades, when it took a star turn in Ross Perot's "giant sucking sound" anti-NAFTA campaigns.
When Americans talk about "trade" today, we're not really talking about trade. Rather, "trade" has become a scapegoat for other economic forces and policy choices that have increased inequality, and a proxy for ethnic tensions and white anxiety about loss of social status.
It's telling, for example, that when presidential candidates argued about trade in the olden days, they were talking about industry-specific protections. In the 2012 and 2016 elections, VanGrasstek noted, politicians have largely focused on country-specific protections. Trump in particular often talks about "losing" to some faceless group of foreigners, especially nonwhite ones with "funny" accents.
Anti-immigrant rhetoric, closely intertwined with anti-trade rhetoric, also emphasizes problems with (nonwhite) illegal immigrants from Mexico — even though the United States has had a net outflow of Mexican immigrants lately, and the country whose citizens are most likely to illegally overstay their visas in the United States is (majority-white) Canada.
Trade-as-proxy-for-some-other-hot-button-issue is not exactly a new development, of course. Trade policy has experienced mission creep for decades, used to shape human rights, national security, environmental and other not-exclusively-economic concerns.
Perhaps we shouldn't be surprised that it's shapeshifting again into an outlet for other American anxieties. 6/30/16 Read more at https://www.washingtonpost.com/opinions/what-trade-opponents-really-dont-like/2016/06/30/2e9939e0-3ef7-11e6-80bc-d06711fd2125_story.html?wpisrc=nl_draw2&wpmm=1
7. Paul Waldman: How Donald Trump turned Republicans' smoldering resentments into a dumpster fire
The Republican Party has long faced a simple yet vexing mathematical problem. While there are benefits that come with being the party that represents the interests of large corporations and the wealthy, executives and rich people won't give you enough votes to win a majority come election day. So one of the ways the GOP has handled the problem is with a deflection of discontentment: There's an elite you should resent, they tell ordinary people, but it isn't the people who control the country's economic life. Instead, it's the cultural elite, those wine-sipping, brie-nibbling college professors, Hollywood liberals, and cosmopolitan multiculturalists who look down their noses at you and tell you your values are wrong. The best way to stand up for yourself and stick it to those elitists is to vote Republican.
Downscale voters may have been told that upper-income tax cuts were the best path to prosperity for all, but they never quite bought it. One recent poll showed 54 percent of Republican voters supporting increasing taxes on those making over $250,000 a year, a result that's enough to make Paul Ryan spit up his Gatorade.
There's a way to handle that, which is to turn up the dial on cultural resentments. But it has to be done carefully in order to minimize the collateral damage. Republicans always knew that nativism and racial appeals had to be fed to these voters carefully, couched in dog-whistles and euphemisms. But Trump just hands them an overflowing glass of hate and tells them to tilt their heads back and chug. A secure border? Hell, we need to build a 20-foot high wall because Mexicans are rapists. Strong measures to stop terrorism? Just keep out all the Muslims.
Once you unleash that stuff, it's hard to pretend that it's anything other than what it is. So the Republican elites — who, let's be honest, usually bear more of a cultural resemblance to the liberals against whom they whip up all those resentments than to the working-class whites whose votes they want — look on in horror as Trump ruins everything. He lays the GOP's racial appeals bare so they can't be denied, and he can't even be trusted to keep faithful to all of the party's economic agenda. If you can't rely on an (alleged) billionaire to keep all that straight, what hope does your party have? Read more at http://theweek.com/articles/633389/how-donald-trump-turned-republicans-smoldering-resentments-into-dumpster-fire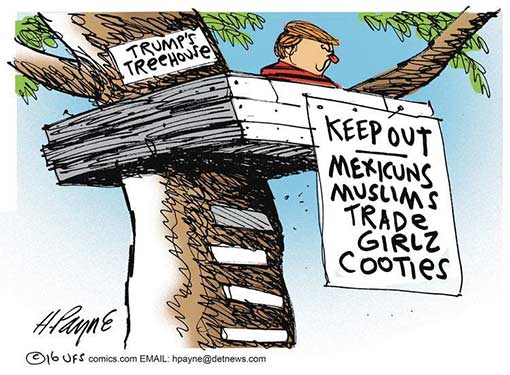 8. Damon Linker: Donald Trump should not be president of the United States
Since he clinched the nomination, Trump has managed the seemingly impossible by becoming even more erratic and even less presidential than he was during the primaries. The insults, the transparent lies, the racist taunting and bullying, the demagoguery, the narcissistic self-obsession, the incapacity to take a position and stick to it, the failure to raise funds and manage a campaign — the man has no business running anything of public consequence, let alone the government of the most powerful nation on the planet.
It really is that simple: Donald Trump should not be president of the United States. If there is even a small chance of successfully deposing him at the convention — an act that, if it worked, would deprive him of the means to compete in the general election — it should be undertaken. The alternative is complicity in a politically reckless and blatantly irresponsible endeavor: the attempted election of a candidate who deserves to lose.
Exiling the Trump voters in 2016 would save the GOP from making a fatal compromise with competence and put it in a relatively strong position to run more compelling and capable post-Trump populists in the 2018 midterm and 2020 presidential elections. America would be much better for it. Read more at http://theweek.com/articles/632839/really-simple-donald-trump-should-not-president-united-states
9. Rmuse: Stop Parroting GOP Lies That Hillary Clinton Is Dishonest
It is not unusual for political campaigns to make innuendoes indirectly suggesting that someone is immoral, improper, or has done something horribly wrong. It is unusual though, for a campaign's supporters to blatantly accuse an opponent of the same party of being dishonest, a lying liar, and an evil person who cannot be trusted.
Defaming a candidate of the opposition party is one thing, if it is based on policy proposals or a character flaw borne out of past actions that predict dangerous tendencies. However, to demean a candidate's character as dishonest and untrustworthy based on innuendo and dishonest proclamations, especially a candidate of the same party is despicable and a typically Republican ploy. It is why the perpetual claims from too many on the "Left" that Democratic presidential candidate and former Secretary of State Hillary Clinton is dishonest and untrustworthy are beyond reprehensible.
Here is the thing; a fair number of people on the left are unaware of; the lion's share of what they "think" they know about Hillary Clinton's reputation "is the result of a quarter century of visceral GOP hatred." As no small number of pundits and political observers have noted, if a liberal thinks Hillary Clinton is corrupt and dishonest, they are paying Republicans huge dividends for their quarter century of manufactured anti-Clinton talking points; not reality.
Hillary Clinton may not be every "liberal's" ideal candidate, but she is not "the grotesque self-parody that a quarter-century of Republican 'vetting' has reduced her to" for an increasing number of voters calling themselves Democrats. As former congressman Barney Franks opined, "all of the controversies that have dogged Clinton's entire career are either dirty lies, whole-cloth creations, or convenient manipulations by the GOP." And now those GOP creations and manipulations are being embraced and propagated by many on the so-called Left; it leaves one to wonder who is really being dishonest and untrustworthy. 7/02/16 Read more at http://www.politicususa.com/2016/04/02/stop-parroting-gop-lies-hillary-clinton-dishonest.html