January 6, 2022
THE WEEK'S BEST QUOTES
"If I were a betting person, I'd say Trump is going to run again. If he's not held accountable and he gets to do it again, I think that could be the end of our democracy." —Hillary Clinton https://www.scmp.com/news/world/united-states-canada/article/3161630/donald-trump-win-2024-could-spell-end-us-democracy"
"Blue-state Dems are power-drunk authoritarian kill-joys. Washington State: NO DANCING ALLOWED!!! Any rational & free citizen: Piss off." — The Cancun Buffoon, Ted Cruz confusing "Western Australia" with "Washington State" in an attempted attack on Democrats over COVID-19 restrictions. https://www.rawstory.com/ted-cruz-2656194838/
"He's been right on everything except this issue. He's so horribly wrong on this issue, and the best way to put it, ironically, is that he's dead wrong, because people are dying! When everyone I know dies, you are getting the blame, President Trump!" —Conservative radio host Wayne Allyn Root wants to stage an "intervention" with Donald Trump over the former president's support for the Covid-19 vaccine. https://www.thedailybeast.com/maga-sycophant-wayne-allyn-root-calls-for-intervention-over-trumps-vax-support
"A lot of people judge me based upon him at first glance, but I really disagree with most of his views." — Caroline Cruz, Sen. Cruz's 13-year-old daughter https://www.salon.com/2021/12/30/ted-cruzs-daughter-knocks-him-on-tiktok-i-really-disagree-with-most-of-his-views_partner/
We had an attempted coup a year ago; the GOP has now essentially endorsed that attempt and is preparing the ground for future cancelation of democracy. GOP policy on vaccines is a combination of bottomless cynicism and deep crazy. Despair is not a plan. Nobody should give up. But if you aren't extremely worried, you aren't paying attention. — Paul Krugman https://twitter.com/paulkrugman/status/1477258696375816195
"You know, we entrust the survival of our republic into the hands of the chief executive, and when a president refuses to tell the mob to stop, when he refuses to defend any of the coordinate branches of government, he cannot be trusted."— Rep. Liz Cheney (R-WY) said she fears that if former President Donald Trump were to become president again, it could be a lethal blow to American democracy. https://www.politico.com/news/2022/01/02/cheney-trump-threat-democracy-526356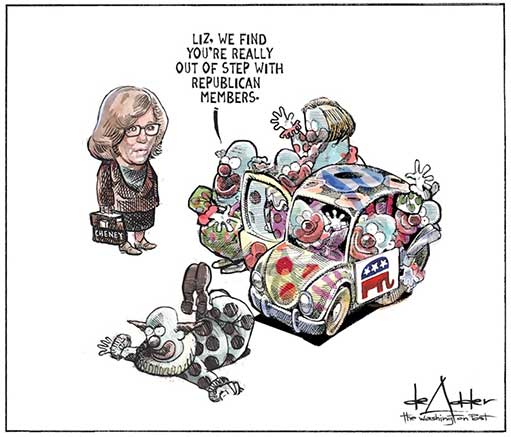 "They're making fun of my skin color. They're calling me an 'insurrection Barbie." And so, that is the epitome of a scapegoat. Just like they did that to the Jews in Germany. Those were scapegoats. And I believe that people who are Caucasian are being turned into evil in front of the media." — Jenna Ryan, a Texas realtor who was sentenced to 60 days in prison by a judge who noted that she had become one of the faces of Jan. 6.
"Wait, you have a white boyfriend? I thought white people were racist! What are you doin' with white folk, AOC? Oh, my God." — OAN host Dan Ball
"Why do we think that we can create something better than God in terms of combatting disease?" — Sen. Ron Johnson (R-WI), on natural immunity.
Litigation Tracker: Pending Criminal and Civil Cases Against Donald Trump
---
IN THIS ISSUE
IN THE NEWS
OPINION
Andy Borowitz: Ivanka Trump Reportedly Begged Putin to Order Her Dad to Stop Capitol Attack
Ivanka Trump begged Vladimir Putin to command her father to call off the attack on the U.S. Capitol on January 6, 2021, new reports indicate.

According to evidence collected by the House subcommittee investigating the insurrection, when Trump witnessed the rioting on television, she immediately placed a call to the Russian President.

"You've got to talk sense to my dad," Trump reportedly pleaded.

"You're the only one he listens to."

"Not Jared?" the Russian leader inquired.

"He thinks Jared's a joke," she replied.

According to the report, Putin politely declined her request. "If it got out that I was helping save American democracy, that would make me look bad," he explained.

Trump reportedly said that she "understood," and then placed a call to the North Korean leader, Kim Jong Un. https://www.newyorker.com/humor/borowitz-report/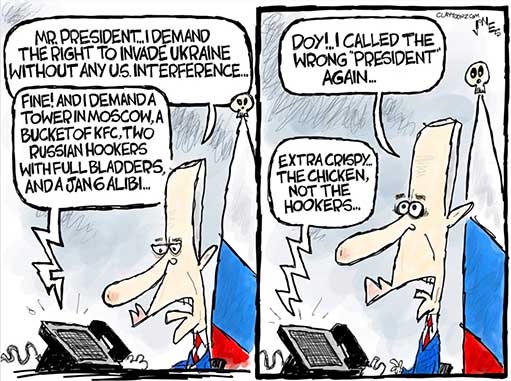 6 in 10 Americans say U.S. democracy is in crisis as 'The Big Lie' takes root
One year after the Jan. 6 attack on the U.S. Capitol, Americans are deeply pessimistic about the future of democracy.
A new NPR/Ipsos poll finds that 64% of Americans believe U.S. democracy is in crisis and at risk of failing. That sentiment is felt most acutely by Republicans: Two-thirds of GOP respondents agree with the verifiably false claim that voter fraud helped Joe Biden win the 2020 election — a key pillar of the Big Lie that the election was stolen from former President Donald Trump.
Fewer than half of Republicans say they are willing to accept the results of the 2020 election — a number that has remained virtually unchanged since we asked the same question last January.
There is really a sort of dual reality through which partisans are approaching not only what happened a year ago on Jan. 6, but also generally with our presidential election and our democracy, said Mallory Newall, a vice president at Ipsos, which conducted the poll.
It is Republicans that are driving this belief that there was major fraudulent voting and it changed the results in the election, Newall said. https://www.npr.org/2022/01/03/1069764164/american-democracy-poll-jan-6
Despite brutal video, only GOP minority say 1/6 very violent
The fighting — so primitive and ferocious that one Capitol Police officer described it as "medieval" and another as a "trip to hell" — left more than 100 law enforcement personnel injured, some beaten with their own weapons.
Video cameras captured the violence live, with rioters clubbing officers with flag polls and fire extinguishers, even squeezing one between doors as he begged for his life.
'Yet nearly a year after the Jan. 6 siege only about 4 in 10 Republicans recall the attack by supporters of then-President Donald Trump as very violent or extremely violent, according to a new poll from The Associated Press-NORC Center for Public Affairs Research. About 3 in 10 Republicans say the attack was not violent, and about another 3 in 10 say it was somewhat violent. https://apnews.com/article/capitol-siege-riots-donald-trump-only-on-ap-congress-3dc5964a8139ae964f7c5c66798a987d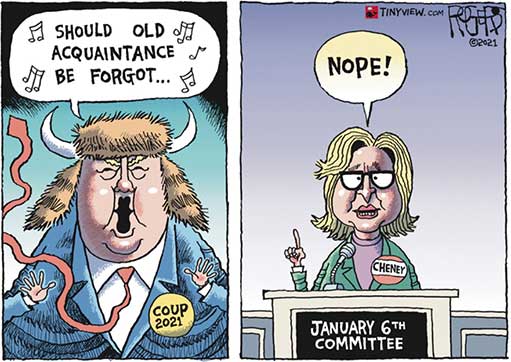 Colorado winter wildfire shatters the illusion of safety in Western suburbs
Climate change is making once unthinkable disasters like the recent winter wildfire in Colorado
This firestorm, in particular, should shatter illusions about safety in communities across the Western U.S. as the warming climate fuels more destructive blazes in fire-prone landscapes where we keep building homes. These hard-to-fathom catastrophes are part of our shared fate as greenhouse gas emissions keep rising and producing more climate extremes. We must respond boldly to limit the devastation.
The zone known as the wildland-urban interface is more expansive than many people understand and is growing rapidly as we build farther into landscapes primed for fire danger. About 1 in 3 housing units in the United States is now located within one of these fire-prone areas that climate change will continue to dry out for decades into the future.
The threat-amplifying effects of global warming underscore the need to work with speed and urgency to prepare and respond, by curtailing development in fire zones and improving emergency communications and response during high winds that determine, more than anything, whether homes burn or not. The situation will, of course, grow significantly worse if we do not move quickly to slow the heating of the planet by ending the burning of fossil fuels. We cannot wait for another unprecedented disaster to act. https://www.latimes.com/opinion/story/2022-01-04/colorado-wildfire
As Capitol riot anniversary nears, Western allies fear for health of U.S. democracy
Last Jan. 6, the world watched in shock as a pro-Trump mob stormed the U.S. Capitol, seeking to disrupt the certification of Joe Biden's election victory. One year on, many of America's closest allies are still profoundly concerned about the state of U.S. democracy.
In Western Europe, major powers were openly relieved by President Trump's exit from the Oval Office. Even so, there is a sense among them that the long-term threat to U.S. democratic institutions remains.
A widely cited poll conducted in 16 advanced economies last year by the Pew Research Center said a median of just 17% of those surveyed consider American democracy "a good model for other countries to follow." Biden's election brought an uptick in favorable sentiment toward the United States, but to many, especially the younger generation, the notion of a shining city on the hill seems like a relic of long-ago times.
"Music, movies, cultural things — yes, sure, we still look to America for that," said Lisa Veppemch, a 27-year-old Berliner who was browsing in an art-supplies store. "But their way of doing things, politically — not so much." https://www.latimes.com/world-nation/story/2022-01-04/as-jan-6-anniversary-approaches-western-allies-fear-for-health-of-us-democracy
Trump Endorses Viktor Orban, Hungary's Far-Right Prime Minister
Donald Trump endorsed Hungary's prime minister, Viktor Orban, on Monday, formally pledging his complete support to a far-right foreign leader who has touted turning his country into an illiberal state.
Mr. Orban and his party have steadily consolidated power in Hungary by weakening the country's independent and democratic institutions — rewriting election laws to favor his Fidesz party, changing school textbooks, curbing press freedoms, overhauling the Constitution and changing the composition of the judiciary. https://www.nytimes.com/2022/01/03/us/politics/trump-endorses-viktor-orban-hungary.html
Since Jan. 6, the pro-Trump Internet has descended into infighting over money and followers
The far-right firebrands and conspiracy theorists of the pro-Trump Internet have a new enemy: each other.
QAnon devotees are livid at their former hero Michael Flynn for accurately calling their jumbled credo "total nonsense." Donald Trump superfans have voiced a sense of betrayal because the former president, booed for getting a coronavirus immunization booster, has become a "vaccine salesman." And attorney Lin Wood seems mad at pretty much everyone, including former allies on the scattered "elite strike-force team" investigating nonexistent mass voter fraud.
After months of failing to disprove the reality of Trump's 2020 presidential election loss, some of the Internet's most popular right-wing provocateurs are grappling with the pressures of restless audiences, saturated markets, ongoing investigations and millions of dollars in legal bills.
The result is a chaotic melodrama, playing out via secretly recorded phone calls, personal attacks in podcasts, and a seemingly endless stream of posts on Twitter, Gab and Telegram calling their rivals Satanists, communists, pedophiles or "pay-triots" — money-grubbing grifters exploiting the cause. https://www.washingtonpost.com/technology/2022/01/03/trump-qanon-online-money-war-jan6/
Biden's Economic Performance Has Proved Unbeatable
U.S. financial markets are outperforming the world by the biggest margin in the 21st century, and with good reason: America's economy improved more in Joe Biden's first 12 months than any president during the past 50 years notwithstanding the contrary media narrative contributing to dour public opinion.
Exceptional returns from dollar-denominated assets, especially the S&P 500 Index in both absolute terms and relative to its global counterparts, can be attributed to record-low debt ratios enabling companies to reap the biggest profit margins since 1950. Corporate America is booming because the Biden administration's Covid-19 vaccination programs and $1.9 trillion American Rescue Plan reduced the jobless rate to 4.2% in November from 6.2% in February, continuing an unprecedented rate of decline during the Covid-19 pandemic.
Consider that real, or inflation adjusted, gross domestic product surged at an average annual rate of 5.03% in each of the first three quarters of 2021, and is poised to expand 5.6% for the year based on the average estimate of more than 80 economists surveyed Bloomberg. If that forecast proves accurate, it would be more than 2.8 times the average between 2000 and 2019 and double the average since 1976.
GDP growth in every incoming administration during the past four decades never exceeded 2.74% until 2021. Biden is now positioned to surpass Carter (5.01%) as the GDP champion of presidents since 1976. Much of the credit goes to The American Rescue Plan, which poured $66 billion into 36 million households and reduced the child poverty rate by 50%, helping the U.S. recover faster from the pandemic than most other nations.
https://www.fa-mag.com/news/biden-s-economic-performance-has-proved-unbeatable-65450.html
Silicon Valley Mogul Peter Thiel Backs Liz Cheney Foe
Silicon Valley mogul Peter Thiel is teaming up with former President Donald Trump to bolster the candidacy of a rising star in far-right politics.
The venture billionaire and the twice-impeached ex-President will co-host two fundraisers next month in support of Wyoming Republican Harriet Hageman, Politico reports.
Hageman is challenging incumbent Republican Liz Cheney for the Cowboy State's lone congressional seat. https://patch.com/california/paloalto/silicon-valley-mogul-peter-thiel-backs-liz-cheney-foe-report
'Moderate' Has Become The Most Meaningless Term In Politics
News outlets trot out the term every time Sens. Joe Manchin (D-WV) and Kyrsten Sinema (D-AZ) make headlines: "moderates."
Usually, these lawmakers are rating coverage and earning the moniker for bucking the party, or throwing some kind of obstacle in the path of their leaders' agenda. Progressive politicians and Democratic constituents alike routinely bristle at the characterization of their party's most obstinate members.
Referring to the small handful of conservative Democrats working to block the president's agenda as 'moderates' does grave harm to the English language and unfairly maligns my colleagues who are actually moderate yet by and large understand the stakes of this historic moment," Rep. Mondaire Jones (D-NY) said recently.
But it's not just Democrats. Yes, "moderate" Democrats are simply the Democrats who most annoy their party, regardless of their policy prescriptions. But those Republicans described as "moderate" are simply those who annoy former President Trump, regardless of their political ideology. "Moderate" voters don't seem to share any common set of characteristics either.
So the word "moderate" is not shorthand for policy positions or ideological beliefs or, really, anything at all. It's simply a signal about how politicians and voters want to be perceived in relation to those around them. And for certain politicians, it does the extra work of painting them as independent from a party some of their base may distrust.
It sounds kind of responsible," Georgia State University political science professor Jennifer McCoy said. "If you're moderate, you're not extreme. It's an attractive label that's fairly meaningless in content." https://talkingpointsmemo.com/news/moderate-manchin-sinema-romney-cheney-voter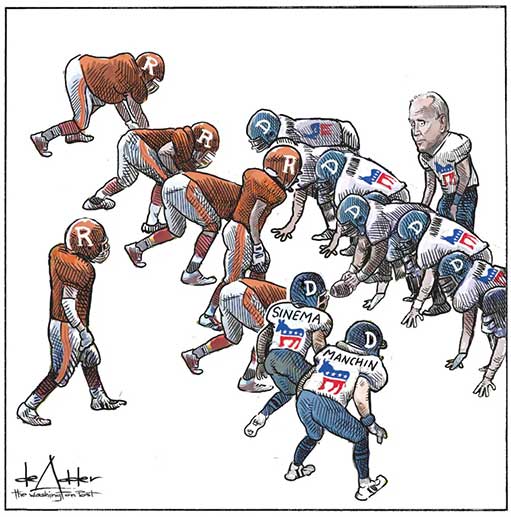 Fox News' Worst Lies About Covid-19 From 2021
Gizmodo takes a look at the worst lies Fox News told its audience about the Covid-19 pandemic during 2021. https://gizmodo.com/fox-news-worst-lies-about-covid-19-from-2021-1848285665
Majority of Americans think Jan. 6 attack threatened democracy:
Nearly a year after the Jan. 6 attack on the U.S. Capitol, a strong majority of Americans condemn it and believe former President Donald Trump is at least partially to blame. But partisan splits have hardened over time, with Republicans still largely backing Trump's version of events, a new ABC/Ipsos poll finds.
An overwhelming majority (72%) of Americans believe the people involved in the attack on the Capitol were "threatening democracy," while 1 in 4 Americans believes that the individuals involved were "protecting democracy." Broken down by party identification, Democrats are nearly unanimous (96%) in believing that those involved in the attacks were threatening democracy. Republicans are more split, with 45% saying it was a threat and 52% saying those involved in the riot were "protecting democracy."
The ABC/Ipsos poll, which was conducted by Ipsos in partnership with ABC News using Ipsos' KnowledgePanel, also shows strongly aligned views among Democrats regarding Trump's responsibility for the attack, with 91% believing Trump bears either "a great deal" or "a good amount" of responsibility for it. On the other hand, a strong majority (78%) of Republicans believe the former president bears "just some" or no responsibility for the day's events.
These figures are strikingly consistent with polling taken in the immediate aftermath of Jan. 6, despite efforts by Trump to recast the narrative and block the House select committee investigating the Jan. 6 attack from obtaining records from his administration.
Overall, in this poll, 58% of Americans think Trump bears a "great deal" or a "good amount" of responsibility for the events, unchanged from an ABC News/Washington Post poll conducted on Jan. 13, 2021, in which 57% of Americans said he was responsible.
Sixty-five percent of Americans believe Biden's victory in the 2020 election was legitimate, which is similar to the results of a January 2021 ABC News/Ipsos poll (68%). Nearly all Democrats -- 93% -- think the election results were legitimate while most Republicans do not. Among Republicans, 71% sided with Trump's false claims that he was the rightful winner. https://abcnews.go.com/Politics/majority-americans-jan-attack-threatened-democracy-poll/story
CBS News poll: A year after Jan. 6, violence still seen threatening U.S. democracy, and some say force can be justified
Roughly 4 in 10 Republicans and independents say that violent action against the government is sometimes justified, according to a startling new WaPo-University of Maryland poll. <https://www.washingtonpost.com/context/dec-17-19-2021
Overall, "the percentage of Americans who say violent action against the government is justified at times stands at 34 percent, which is considerably higher than in past polls by The Post or other major news organizations dating back more than two decades," write WaPo's Dan Balz, Scott Clement and Emily Guskin. "Again, the view is partisan: The new survey finds 40 percent of Republicans, 41 percent of independents and 23 percent of Democrats saying violence is sometimes justified."
THIS IS BAD -- A new CBS/YouGov poll finds that 68 percent of respondents see the Jan. 6 attacks as "a harbinger of increasing political violence, not an isolated incident," write CBS' Anthony Salvanto, Kabir Khanna, Fred Backus and Jennifer Depinto. "That leads to larger misgivings. When people see it as a sign of increasing violence, they're more likely to think violence is a reason democracy is threatened."
There is 12% of the country , and a fifth of Trump's 2020 voters, that want Trump to fight to retake the presidency right now, before the next election. … [A] third of the people within that 12% say he should use force if necessary. While that only amounts to 4% of the population, it still translates into millions of Americans effectively willing to see a forceful change in the executive branch." https://www.cbsnews.com/news/january-6-opinion-poll-2022/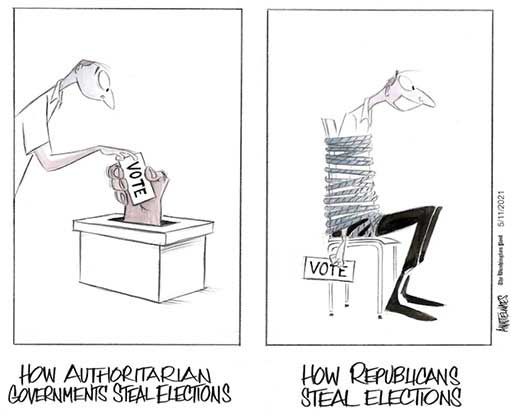 Tucker Carlson's Fox News show undermined vaccines 99% of the days it covered them since Biden became president
According to Media Matters' analysis, Tucker Carlson discussed vaccines in roughly 50% of all original episodes since Biden was inaugurated -- and all but one of those episodes featured a claim that undermined vaccines or vaccination efforts.
Fox News' overall coverage of vaccination efforts during this time was atrocious, but Carlson and his guests were among the worst culprits, constantly undermining the vaccines' efficacy and safety. Examples include:
Throughout the Biden presidency, Tucker Carlson Tonight and Fox News have consistently undermined public health efforts to protect people from COVID-19. This constant anti-vaccine campaign has resulted in real-life consequences, as Fox News viewers are shown to be less likely to get vaccinated than other networks' audiences. https://www.mediamatters.org/tucker-carlson/tucker-carlsons-fox-news-show-undermined-vaccines-99-days-it-covered-them-biden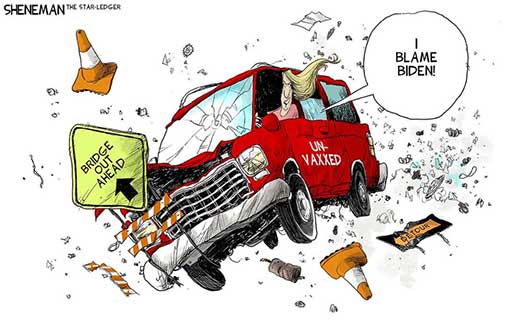 The dishonest doctors who were Fox News' most frequent medical guests in 2021
With the help of its rotating roster of supposed medical experts, Fox News turned vaccine passports and mandates into culture war battles because it's "great for ratings." According to a Media Matters study, Fox News undermined vaccines nearly every day over a six-month period. (Ironically, Fox's own vaccine and testing policies are more stringent than those put forward by the Biden administration.) https://www.mediamatters.org/fox-news/dishonest-doctors-who-were-fox-news-most-frequent-medical-guests-2021-0
Barton Gellman: Trump's Next Coup Has Already Begun
Technically, the next attempt to overthrow a national election may not qualify as a coup. It will rely on subversion more than violence, although each will have its place. If the plot succeeds, the ballots cast by American voters will not decide the presidency in 2024. Thousands of votes will be thrown away, or millions, to produce the required effect. The winner will be declared the loser. The loser will be certified president-elect.
The prospect of this democratic collapse is not remote. People with the motive to make it happen are manufacturing the means. Given the opportunity, they will act. They are acting already.
Who or what will safeguard our constitutional order is not apparent today. It is not even apparent who will try. Democrats, big and small D, are not behaving as if they believe the threat is real. Some of them, including President Joe Biden, have taken passing rhetorical notice, but their attention wanders. They are making a grievous mistake.
The democratic emergency is already here," Richard L. Hasen, a professor of law and political science at UC Irvine, told me in late October. Hasen prides himself on a judicious temperament. Only a year ago he was cautioning me against hyperbole. Now he speaks matter-of-factly about the death of our body politic. "We face a serious risk that American democracy as we know it will come to an end in 2024," he said, "but urgent action is not happening."
For more than a year now, with tacit and explicit support from their party's national leaders, state Republican operatives have been building an apparatus of election theft. Elected officials in Arizona, Texas, Georgia, Pennsylvania, Wisconsin, Michigan, and other states have studied Donald Trump's crusade to overturn the 2020 election. They have noted the points of failure and have taken concrete steps to avoid failure next time. Some of them have rewritten statutes to seize partisan control of decisions about which ballots to count and which to discard, which results to certify and which to reject. They are driving out or stripping power from election officials who refused to go along with the plot last November, aiming to replace them with exponents of the Big Lie. They are fine-tuning a legal argument that purports to allow state legislators to override the choice of the voters.
Trump is successfully shaping the narrative of the insurrection in the only political ecosystem that matters to him. The immediate shock of the event, which briefly led some senior Republicans to break with him, has given way to a near-unanimous embrace. Virtually no one a year ago, certainly not I, predicted that Trump could compel the whole party's genuflection to the Big Lie and the recasting of insurgents as martyrs. Today the few GOP dissenters are being cast out. "2 down, 8 to go!" Trump gloated at the retirement announcement of Representative Adam Kinzinger, one of 10 House Republicans to vote for his second impeachment.
Trump has reconquered his party by setting its base on fire. Tens of millions of Americans perceive their world through black clouds of his smoke. His deepest source of strength is the bitter grievance of Republican voters that they lost the White House, and are losing their country, to alien forces with no legitimate claim to power. This is not some transient or loosely committed population. Trump has built the first American mass political movement in the past century that is ready to fight by any means necessary, including bloodshed, for its cause.
The midterms, marked by gerrymandering, will more than likely tighten the GOP's grip on the legislatures in swing states. The Supreme Court may be ready to give those legislatures near-absolute control over the choice of presidential electors. And if Republicans take back the House and Senate, as oddsmakers seem to believe they will, the GOP will be firmly in charge of counting the electoral votes.
Against Biden or another Democratic nominee, Donald Trump may be capable of winning a fair election in 2024. He does not intend to take that chance. https://www.theatlantic.com/magazine/archive/2022/01/january-6-insurrection-trump-coup-2024-election/620843/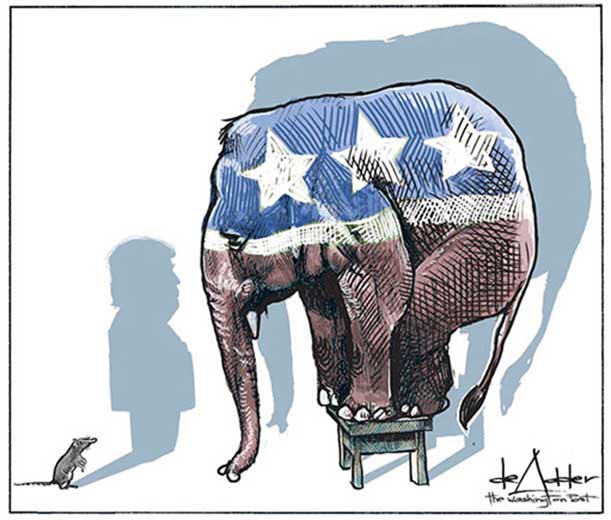 Eugene Robinson: If we are to save our democracy, there must be a reckoning for the Jan. 6 attack
One year ago, ours was a nation on the brink. We must never forget.
The first week of 2021 brought an unprecedented rupture in the democratic process that Americans have taken for granted since the election of John Adams in 1796. A sitting president, Donald Trump, was trying desperately to remain in office despite his defeat in a free and fair election. He summoned a mob to Washington as an intimidating show of force, and that violent mob — whipped into a frenzy by Trump and his cronies — stormed the Capitol to prevent Congress from certifying Trump's loss.
Much has happened since, both domestically and in foreign affairs. Now, as then, the biggest factor in most Americans' day-to-day lives is the disruption caused by the coronavirus pandemic. And the leadership of the Republican Party dearly wants us to forget that the Jan. 6 insurrection ever took place.
But the nation cannot just move on from such an attack on our constitutional order. Not since 1814, when British soldiers marched into Washington, had the Capitol been overrun and pillaged. Not even during the Civil War was the orderly transfer of presidential power disrupted. Never had a defeated presidential candidate — much less a defeated incumbent who had sworn to defend the Constitution — refused to accept the result of an election.
We need to know everything that is knowable about these events. And those who inspired, organized and committed the insurrection need to be brought to justice.
President Biden and Vice President Harris intend to deliver remarks Thursday to mark the anniversary of the failed putsch. House Speaker Nancy Pelosi (D-Calif.) has planned a series of events, beginning with prayer and a moment of silence in the House chamber, where so many of her colleagues sheltered in terror on Jan. 6 as a crush of thugs and zealots tried to smash their way inside. https://www.washingtonpost.com/opinions/2022/01/03/jan-6-capitol-insurrection-reckoning-trump/
Dana Milbank: 'We are closer to civil war than any of us would like to believe,' new study says
And because Democrats are in charge of the White House and Congress, most Republicans will do their best to pretend that the commemoration is more about politics than nationhood. Trump is also expected to speak Thursday, and he will surely repeat his lies and gibberish about the election somehow being stolen from him and his supporters. He and the GOP — his GOP, make no mistake — have been trying to make the insurrection into a partisan issue. Don't let them.
What happened last Jan. 6 was much bigger and more important than politics. And holding accountable the perpetrators of this attack on our democracy must take precedence over any political concerns. This is bigger than who wins the midterm elections or who runs for president in 2024. This project of reckoning is about the continuation of the American experiment. https://www.washingtonpost.com/opinions/2022/01/03/jan-6-capitol-insurrection-reckoning-trump/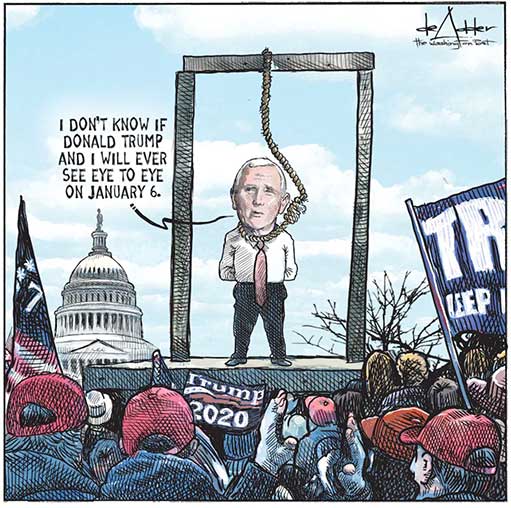 Opinion by Robert Kagan: Our constitutional crisis is already here
The House select committee investigating the attack (appointed by Pelosi only after Republicans refused to form a proper blue-ribbon commission) appears to be doing an admirable job of collecting new information, including about Trump's actions that day. The committee must not let stonewalling by Trump and his inner circle cause delay — a full year has already passed. It is good that the committee plans to issue an interim report this summer but, in the meantime, it should hold public hearings and release as much information as possible. Their work is not just important but also urgent.
Simultaneously, Congress as a whole must shore up the weaknesses in our transfer-of-power process exposed by the insurrection. The mob's aim was to halt the official counting of electoral votes — and the mob succeeded, at least for several hours. Even the libertarian Cato Institute agrees that the 1876 Electoral Count Act is a mess of ambiguities and contradictions and needs to be reformed. Legislation to do so should begin making its way toward Biden's desk.
Meanwhile, the Justice Department must continue to press criminal charges against the insurrectionists. It is not enough to prosecute and sentence those who participated bodily in the assault. The puppet masters who assembled the crowd and sent it off to sack the Capitol must be held to account as well.
And no one, including Trump, can be considered above the law. https://www.washingtonpost.com/opinions/2022/01/03/jan-6-capitol-insurrection-reckoning-trump/
Paul Waldman: Will American democracy survive the next few years?
There was a period early last year when it seemed that Donald Trump, defeated, disgraced and banned from his beloved Twitter, would see his political power seep away as he put his energy toward new grifts to milk his shrinking band of loyalists for a few last dollars.
But today, his return seems inevitable. He will probably run again in 2024, and if he does he will definitely be the Republican nominee. Who in that party of simpering sycophants would even try to defeat him? So Trump will once again lead one of our two parties, and perhaps seize the White House.
We have not yet begun to grapple with what will happen if he does. Would a second Trump presidency be more restrained, more committed to the rule of law, less corrupt, less determined to twist our system into an autocracy? We all know the answer.
If you try, you can write an optimistic story for 2022. The omicron wave could be the beginning of the end of the pandemic, after which covid-19 will settle to a mere nuisance, always with us but not shaping the contours of our lives. Democrats could pass some version of Build Back Better and then another reconciliation bill this year, which would ease the burdens Americans face and begin to create a more humane system of social supports. Inflation could fall as supply chain bottlenecks ease.
All that is possible. But all of it will occur against the backdrop of a sweeping effort to destroy what we thought our system was supposed to embody. That is not in doubt; the question is how successful democracy's enemies will be. https://www.washingtonpost.com/opinions/2022/01/03/american-democracy-survive-2022/
Dana Milbank: Marjorie Taylor Greene is a wart on the body politic. Facebook is a melanoma.
The Georgia Republican's latest deadly lie — this time disinformation about "extremely high amounts of covid vaccine deaths" to discourage people from receiving the lifesaving protection — earned her a permanent ban from Twitter. And Facebook? The social media behemoth dithered for a day and then decided it would ban Greene for … 24 hours.
It was the tech equivalent of Dr. Evil holding the world ransom with a nuclear warhead for one million dollars in "Austin Powers." It allowed Greene (and Donald Trump and "my Kevin" McCarthy) to cry about censorship, yet it did nothing to stop the lies.
Facebook reasoned that "removing her account for this violation is beyond the scope of our policies" — as if Facebook is utterly powerless to do anything to alter its own ridiculous policies.
If the testimony and documents provided last year by Facebook whistleblower Frances Haugen weren't enough to show that Facebook's "policies" are destroying democracy, encouraging racist violence and ruining the mental health of a generation, a new investigation by a team from The Post and ProPublica leaves no doubt about Facebook's malignant impact and its dishonest corporate behavior:
"Facebook executives have played down the company's role in the Jan. 6 attack and have resisted calls, including from its own Oversight Board, for a comprehensive internal investigation. The company also has yet to turn over all the information requested by the congressional committee studying the Jan. 6 attack, though it says it is negotiating with the committee.
But the ProPublica-Post investigation, which analyzed millions of posts between Election Day and Jan. 6 and drew on internal company documents and interviews with former employees, provides the clearest evidence yet that Facebook played a critical role in the spread of false narratives that fomented the violence of Jan. 6."
Specifically, there were more than 650,000 Facebook posts attacking the legitimacy of Joe Biden's victory — more than 10,000 a day — between Election Day and the Jan. 6 coup attempt. Facebook's attempts to temper the content "were ineffective and started too late."
This failure to police itself by Facebook, and social media generally, is well-established pattern. "Their years of dawdling and denying responsibility allowed hate to take root," Anti-Defamation League chief executive Jonathan Greenblatt writes in a book out this week, "It Could Happen Here," about the dangerous spread of white supremacy. "Their algorithms enabled this intolerance to expand and spread across the internet, entrancing users who often didn't even realize what they were encountering and feeding this content to those who affirmed their interest. And even now the industry's collective response remains spotty and insufficient."
Facebook and its ilk have proved themselves entirely too willing to serve as the medium of choice for those who would supplant self-government with lies and violence. https://www.washingtonpost.com/opinions/2022/01/04/facebook-marjorie-taylor-greene-ban-section-230/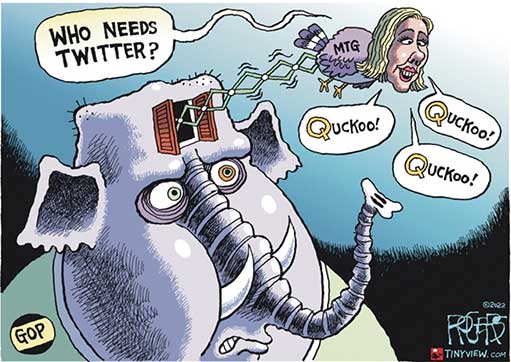 Greg Sargent: The smoking gun that Liz Cheney is looking for on Trump comes into view
Cheney has repeatedly suggested the committee is examining whether Trump, in refusing to talk down the mob, might have done so as part of a deliberate effort to obstruct Congress' counting of electors.
The committee is reportedly looking at whether to make that the basis for recommending criminal prosecution. The grounds would be that it violated federal law barring obstruction of an "official proceeding."
Determining whether Trump's conduct constituted such a violation is complicated. It might require determining whether Trump saw the violence as instrumentally helpful in subverting the electoral count, and deliberately refrained from calling off the attack to serve that express goal.
The committee has established that numerous Republicans frantically urged Trump to call off the riot, even as he enjoyed watching it all unfold on TV. Journalist Jon Karl reports that Trump didn't take at least one of their calls
The committee wants to determine whether Trump indicated a desire to see the mob continue disrupting the electoral count. We don't know if it will prove this.
Then there's the question of whether disrupting the electoral count constitutes obstructing an official proceeding, and whether Trump, in inciting the mob to descend on the Capitol during that count, participated in that obstruction. We don't know exactly what we'll learn there, either.
Goodman said the committee could recommend this while avoiding implying that Trump's conduct did not violate current statute. It could recommend "enhancing the criminal penalties for obstructing the electoral count."
This would write an explicit protection against obstructing the electoral count into the law, Goodman said, but without undercutting the idea that "obstruction of congressional proceedings is already criminal."
This goal would undercut the Republican talking point that the committee lacks no real legislative purpose and is illegitimate. Mulling such a re n form is obviously a legitimate legislative purpose, as is mulling reform of the Electoral Count Act.
In an important sense, we already have our smoking gun. As Cheney told ABC News:
We have firsthand testimony that his daughter Ivanka went in at least twice to ask him to please stop this violence.
Any man who would not do so, any man who would provoke a violent assault on the Capitol to stop the counting of electoral votes, any man who would watch television as police officers were being beaten, as his supporters were invading the Capitol of the United States, is clearly unfit for future office, clearly can never be anywhere near the Oval Office ever again.
How many congressional Republicans would agree with this statement? How is it possible that the answer is: Very few?
This is why it will be interesting to see if Republicans will support strengthening the criminal code against disruption of the electoral count, and whether a certain pair of Democratic senators will support ending the filibuster to pass such a safeguard.
We may soon get answers to those questions. And they probably won't be to our liking. https://www.washingtonpost.com/opinions/2022/01/04/liz-cheney-trump-jan-6-smoking-gun/
Jonathan V. Last: Next Year Will Be Worse
So yes, lots of good, normal things will happen in 2022. But none of that will change the basic trajectory this country is on.
We have a major political party which is now explicitly anti-democratic. In 2024, this party will have the support of at least 44 percent of voters. This level of support might be enough to win a legitimate victory via the Electoral College. But if not, this party is openly preparing a series of novel legal maneuvers to seize the executive branch through alternative means.
This is the backdrop of 2022: A period of procession on the way to a showdown which will either uphold or overturn America's democratic order. https://thetriad.thebulwark.com/p/next-year-will-be-worse
New York Times editorial: Every Day Is Jan. 6 Now
One year after the smoke and broken glass, the mock gallows and the very real bloodshed of that awful day, it is tempting to look back and imagine that we can, in fact, simply look back. To imagine that what happened on Jan. 6, 2021 — a deadly riot at the seat of American government, incited by a defeated president amid a last-ditch effort to thwart the transfer of power to his successor — was horrifying but that it is in the past and that we as a nation have moved on.
This is an understandable impulse. After four years of chaos, cruelty and incompetence, culminating in a pandemic and the once-unthinkable trauma of Jan. 6, most Americans were desperate for some peace and quiet.
On the surface, we have achieved that. Our political life seems more or less normal these days, as the president pardons turkeys and Congress quarrels over spending bills. But peel back a layer, and things are far from normal. Jan. 6 is not in the past; it is every day.
It is regular citizens who threaten election officials and other public servants, who ask, "When can we use the guns?" and who vow to murder politicians who dare to vote their conscience. It is Republican lawmakers scrambling to make it harder for people to vote and easier to subvert their will if they do. It is Donald Trump who continues to stoke the flames of conflict with his rampant lies and limitless resentments and whose twisted version of reality still dominates one of the nation's two major political parties. https://www.nytimes.com/2022/01/01/opinion/january-6-attack-committee.html